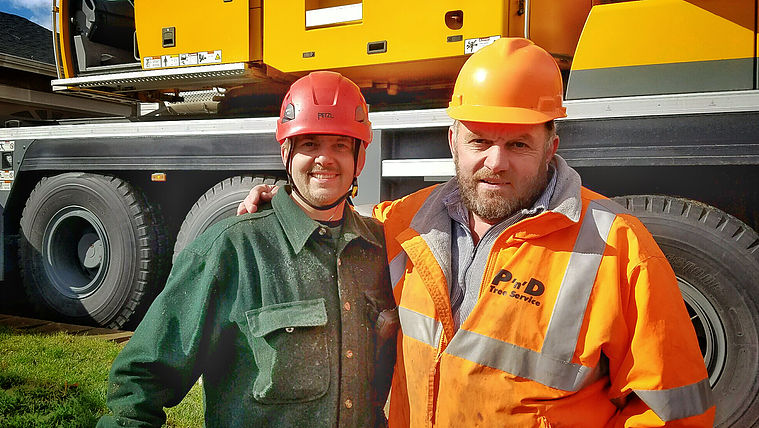 Please Review Us by clicking the links below!
Reviews are very important to our customers and to us. Please take a moment of your time to give us
a review on your recent service with P'n'D Logging and Tree Service.
I had 5 trees removed that were going to be a danger to my house before long. As soon as they arrived (early!) they set at it and within one hour they had...
P&D removed 10 very large fir trees from our back yard for a fair price. One of the trees was so close to our home that it was literally touching our deck...
Just had these guys trim 5 trees and they did a great job. Cleanup was great and very thorough. Price was more than fair. I would recommend them to anybody.
I had two dangerously huge fir trees in my backyard that needed removal, so I called 3 different companies for bids. Two of the companies required the...
These guys are good! I would definitely recommend them to friends and family.
We had a very tall very dead alder that other outfits didn't want to touch. Over several months each outfit we called was full of "we can tackle anything"...
Incredible, showed up early . I thought I had a big job, well these guys showed up and went to work. 8 large trees all gone and when they left It looked like they was never here. Super impressed with the clean up. Great Guy's I highly recommend P and D Logging. Also I had 4 bids. There's was very close to everyone else and they brought the Crane to insure I had no damage to the yard or house.. I really appreciate you guy's.
If your looking for wood, look no further. Chris brought me a couple of large cords in October of good hardwoods. I just had another large cord dropped off and it's beautiful wood. Cut to about 16" that fits my wood stove perfect. It lights quick and so far I have been getting 8-10 hours of burn time. Thanks Chris for delivering on your promise. Looking forward to seeing you again.
Watch some reviews by clicking below