Tree Removal in Woodinville – Downed, Dead or Dangerous Trees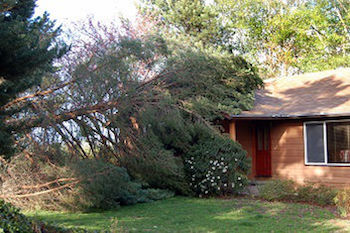 Many Woodinville property owners take advantage of having trees in their landscaping. They are not only visually appealing, but they also produce economic, community, and environmental benefits. However, there are a few circumstances that warrant a tree removal service.
Dangerous trees on your Woodinville property would be those who have a greater risk of falling. Typically, trees that are already dead or those that are dying are prime candidates for coming down during inclement weather. When you consider the additional weight of snow and ice combined with high winds, a dead tree is a sitting target.
Dead tree removal is a precautionary measure that home and business owners in the Woodinville area should consider. Here are a few things to watch for when a tree is dying:
Fungi near or around the base of the trunk
Signs of disease or insect infestations
Large cavities within the truck
Peeling or chipping bark
Dead or hanging branches
Give P'n'D Logging and Tree Service a call if you are concerned about a fallen, dead, or dangerous tree on your Woodinville property. 425-569-0900
Tree Removal Service for Home & Business Property in Woodinville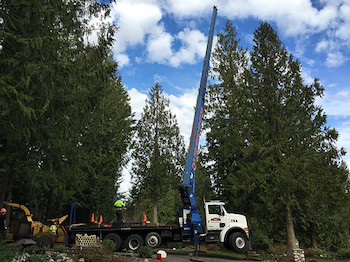 Another situation that may call for a tree removal service is if you are dealing with a hazardous tree. It is hard to anticipate the impact a mature tree can have on your landscaping. While removing a tree can enhance or restore your view, other types of hazardous conditions that are less obvious can also develop over time.
These are some reasons Woodinville property owners have called our tree removal company:
Obstruction of sidewalks, walkways, or streets
Root systems are encroaching on underground utilities
Tree roots are undermining foundations
Other obstructions are not resolved by just trimming
If you are dealing with a hazardous tree on your home or business property in Woodinville, we're the ones to call!
Why Do Woodinville Residents Choose Our Tree Removal Company?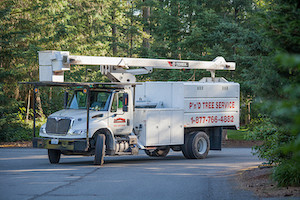 Our tree removal company has been helping Woodinville residents as well as property owners throughout the Puget Sound region and Eastern Washington since 1977. Our highly experienced crew is capable of working in all types of environments and conditions.
While every customer receives expert tree removal services carried out by tree care professionals, they can also expect competitive and fair pricing and excellent customer service!
A few other reasons we are the preferred tree removal company in Woodinville:
Family-owned and operated
Licensed, bonded, and insured
A+ BBB rating
Free detailed, written estimates
Insurance claim aid
If you want to remove a tree on your Woodinville property, reach out to P'n'D Logging and Tree Service at (425) 569-0900.