Tree Removal in Teanaway – Downed, Dead or Dangerous Trees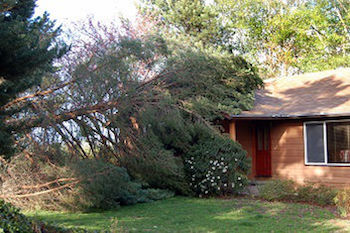 We are a family-owned and operated tree removal company providing services to residential and commercial clients and municipalities in Teanaway.
It is always advisable to request a professional tree removal service with a qualified arborist, the most advanced equipment, and the latest technologies to avoid damage to property and utility lines.
There is a potential risk of danger with dead trees because of the likelihood of a whole tree falling over. And the risk of danger increases as time passes.The best recommendation when you have a downed, dead, or dangerous tree is to call us to remove it.
These are common conditions that require tree removal:
Storm damage
Diseases and pest infestations
Trunk splits or cracks
Downed, dead, or dying trees
Root rot and decayed trunks
Call for a free consultation and detailed written estimate from the best tree service in the Pacific Northwest! One call does it all!
Tree Removal Service for Home & Business Property in Teanaway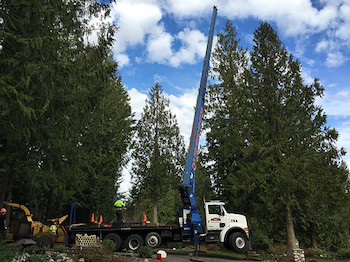 First impressions for home and business owners have a profound effect on value.
If you have dead, dying, or dangerous trees on your property in Teanaway, immediate tree removal service is essential because they are a safety hazard. We are a reliable company to get the job done safely and efficiently.
These are a few reasons to call us for an assessment by our certified arborist even when your trees do not exhibit obvious damage, and tree removal from your property as recommended:
Unsightly dead trees lower the value of your home or business
Dead or diseased trees & stumps create a home for pesky insects
Falling trees cause damage to structures & utility lines
Dying trees pose a potential risk to humans, buildings, & vehicles
We have specialized equipment, such as crane buckets and low-impact cranes to remove trees of any size from confined areas, on hillside slopes, between dwellings, and near septic systems.
Call today to remove the risks to life or property by calling our office for tree removal service. We offer a free consultation and detailed written estimate.
Why Do Teanaway Residents Choose Our Tree Removal Company?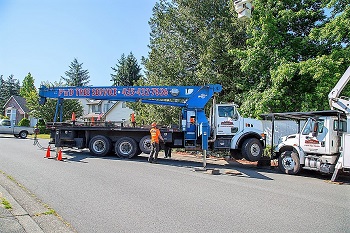 Our tree removal company has a time-honored reputation as a leader in the tree service industry.
We have a professional crew, certified arborists, and the right equipment to get the job done right! Whether you have trees that look healthy, but represent a threat due to leaning, or dead, or dangerous trees that pose a safety risk, call us for safe and efficient removals.
Our expert crew can successfully handle standard removals involving safe tree felling, or complicated uprooting requiring the use of a bucket crane or low-impact crane.
These are reasons why Teanaway residents choose us for tree removal:
Our commitment to safety
Licensed, bonded, and insured for your protection
Free written estimates
State-of-the-art equipment & specialty tools
Affordable services
Call P and D Logging and Tree Service to schedule a consultation and free written estimate. One call does it all! 425-569-0900