Tree Removal in Tacoma – Downed, Dead or Dangerous Trees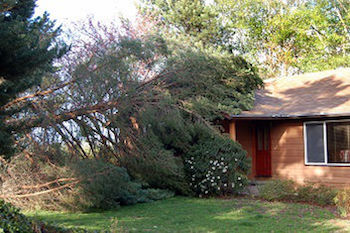 P'n'D Logging and Tree Service has been serving property owners in the Tacoma, WA area since 1977 with home, business or municipal tree removal services.
Although trees provide a lot of benefits to our landscape and environment, there are certain occasions when removing a tree is the right choice. For instance:
They are already dead but still standing
Trimming alone will not overcome an existing obstruction
Roads, sidewalks or walkways are blocked
Posing a danger to your home or business buildings
New construction requires land clearing
Underground utilities are being damaged by roots
Our tree removal company has an experienced crew who are capable of working in a variety of environments and in any type of weather condition. With the use of expertly maintained tools and equipment, our goal is to remove the tree while minimizing any additional damage to your landscaping.
If you would like a complimentary consultation or would like a free estimate for a tree removal service, just call us at (425) 569-0900.
Tree Removal Service for Home & Business Property in Tacoma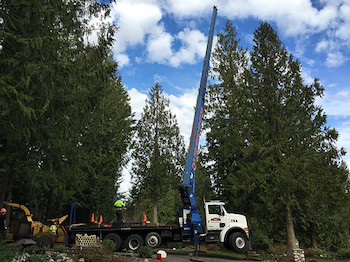 If there is a dead or badly diseased tree that remains standing, or there is a potentially dangerous one that if it falls could cause severe damage to buildings or structures, now is the time to give us a call. Let us assess the situation now to reduce the risk of damage or injury in the future.
Our highly trained team with the aid of specialized equipment can:
Safely bring trees down to a predefined space
Utilize low-impact cranes in confined areas
Lift trees safely with our crane trucks
In conjunction with a tree removal service, we offer Tacoma residents a discount for stump grinding. We can quickly and efficiently reduce the stump and roots to below grade.
Why Do Tacoma Residents Choose Our Tree Removal Company?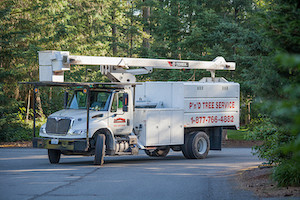 Our tree removal company has a long-standing reputation in the Tacoma area as well as throughout the Pacific Northwest of providing high-quality services that are performed in a safe and efficient manner. We follow best industry standards for the protection of the environment and the safety of our team and our customers.
We have state-of-the-art equipment, highly skilled machine operators, and professional tree removal experts that allow us to do the job anywhere, anytime and regardless of existing weather conditions.
Tacoma property owners also appreciate the fact that our tree removal company:
Is family owned and operated
Offers competitive rates
Provides free estimates
Will work with your insurance company
Call P'n'D Logging and Tree Service today at (425) 569-0900 for your tree removal needs in the Tacoma area.