Tree Removal in Sumner – Downed, Dead or Dangerous Trees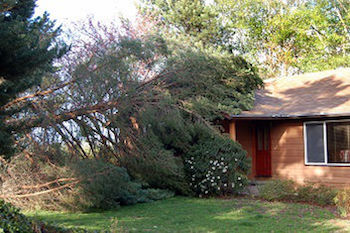 Tree removals in the Sumner community can be required for many reasons. Some of our customers have one or more trees removed as part of a land clearing project to make way for renovations or new construction. Other times, a tree removal service is a preventative measure to alleviate the risk of future damage.
Dead or dying trees, for example, may not look particularly dangerous now, but high winds during a typical PNW storm could bring them crashing down in a flash! When a tree is weak, it is no longer able to withstand weather elements – especially wind, snow, or ice.
Hazardous trees may also be present on your Sumner property. Our tree removal service can also be used when:
Just trimming will not eliminate obstructions
Doorways or walkways are blocked
Streets and sidewalks are obstructed
Root systems are damaging utilities or foundations
Branches or trunks are touching overhead electrical lines
We encourage you to call P'n'D Logging and Tree Service for tree removal services on Sumner residential, commercial property, or municipal land. (425) 569-0900.
Tree Removal Service for Home & Business Property in Sumner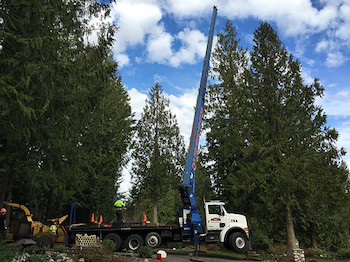 Our tree removal company also offers 24/7 response to emergency tree removal services if you have had the startling realization that a tree has fallen on your roof, car, or other structures. With a highly trained team of tree removal professionals, along with specialized equipment and gear, they can:
Fell a tree into a specified area
Use low-impact cranes for difficult or confined areas
Use our crane trucks to safely lift branches or entire trees
We also welcome Sumner property owners to take advantage of stump grinding discounts when they are done in conjunction with a tree removal service. Our methods are fast and completely safe for the environment.
Why Do Sumner Residents Choose Our Tree Removal Company?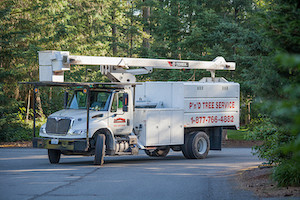 It's all about great tree services, excellent customer service, and a long-standing reputation of getting the job done safely, quickly, and effectively! Sumner property owners expect the best – and that is exactly what they received when they hired our tree removal company.
What sets us apart from other tree removal companies is our absolute adherence to best industry practices. We also have in place the highest level of safety possible for the utmost protection of our customers and crew.
Other reasons our tree removal company is chosen by Sumner property owners may include:
Affordable, fair, and competitive charges
Free detailed, written estimates for any job
Claims assistance for homeowner's insurance
Family owned and operated
P'n'D Logging and Tree Service helps home and business owners, plus municipal landowners with all of their tree removal needs. (425) 569-0900