Tree Removal in Renton – Downed, Dead or Dangerous Trees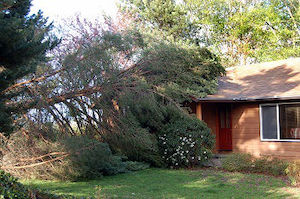 Removing a tree is a last resort, but when Renton property owners have a downed, dangerous or dead tree, a tree removal service may be the best decision. Trees can be damaged in a variety of ways, including strong winds, excessive rain, disease and pest infestation, or even the weight of snow and ice.
P'n'D Logging and Tree Service has an experienced crew who use tried and true tree removal procedures to safely take care of any dead trees or potentially dangerous ones on your Renton property. We can assist residential as well as commercial property owners who want to avoid a liability risk when trees are:
Dead or weakened from decay
Threatening buildings or structures
Too close or obstructing overhead power lines
Obstructing sidewalks
Creating damage from overgrown roots
Our tree removal service for Renton residents can be done for preventative measures, or for clearing the way to enhance your landscaping or in preparation for new construction.
Tree Removal Service for Home & Business Property in Renton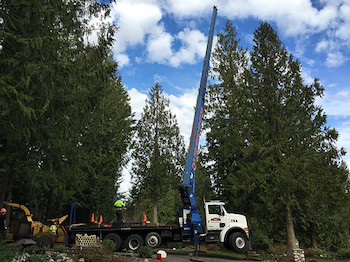 Often, tree removal services are not something you planned. Until you find that beautiful tree on your Renton property is now sprawled across your yard, has crushed your car, or is precariously sitting on your roof! We understand that situations like this come without warning, especially throughout the winter season. This is why we also offer a 24/7 response time for emergency tree removal!
We use well-maintained equipment and an experienced crew to help you restore your Renton home or business property, by:
Crane truck to safely lift the tree
Low-impact crane for confined or tight spaces
Felling the tree to a safe area
Regardless of weather or other conditions, our team of tree removal experts can get the job done! No project is too big or too small for P'n'D.
Why Do Renton Residents Choose Our Tree Removal Company?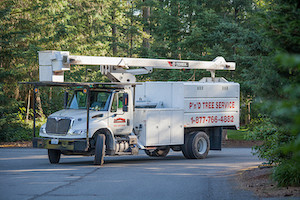 Renton residents have preferred our tree removal company for a variety of reasons, including our outstanding reputation. Not only can you rely on us for following the best industry practices for safety, but you know the job will be performed quickly, and efficiently.
Other great reasons residential, commercial, and municipal property owners choose us:
We are family owned and operated
Focused on customer service
Affordably and competitively priced
Free written estimates
Free consultations
Assist with insurance company claims
Whatever your scheduled or emergency requirements are in the Renton community, we are the tree removal company to call. P'n'D Logging and Tree Service. (425) 569-0900