Tree Removal in Fairwood – Downed, Dead or Dangerous Trees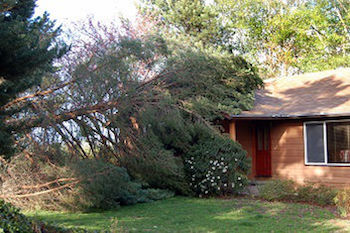 We are often asked, "When does a tree need to be removed?" Other than a tree removal service for construction purposes or landscaping makeovers in Fairwood, there are 2 general reasons to have a tree removed.
Hazardous trees: This is when they are blocking sidewalks or walkways, roots are creating problems with underground utility lines, and other forms of obstructions cannot be overcome by trimming alone.
Dangerous trees: These have a high risk of falling on structures, vehicles, or anyplace else! Dead or dying trees are very susceptible to storms and high winds. Therefore, a tree removal service is a preventative measure to eliminate future problems.
If you live in the Fairwood community and are considering a tree removal service, give us a call! P'n'D Logging and Tree Service is well known throughout the Puget Sound as the go-to company when property owners are dealing with hazardous and dangerous trees.
Tree Removal Service for Home & Business Property in Fairwood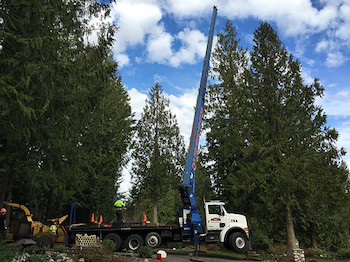 Strong winds and excessive rain in the Fairwood area is not uncommon. Healthy trees can fall victims to this type of weather, but dead or diseased trees are sitting targets. We highly recommend that home, business and municipal property owners opt for a tree removal service now instead of risking injury to people and property later.
We are here to help you with any type of tree removal service. Fairwood residents can schedule a preventative service or, if you need an emergency tree removal, we are available 24/7. Our crews are very experienced, and with the necessary tools and specialized equipment they can:
Use a crane truck to safely lift branches or trees from structures
Use a low-impact crane for hard-to-reach or confined spaces
Safely fell a tree to desired area
No tree is too big for us! Give us a call today at (425) 569-0900.
Why Do Fairwood Residents Choose Our Tree Removal Company?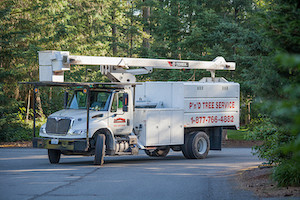 Our tree removal company began in 1977 with a primary goal of providing great services, competitive prices, and the best customer service possible. These goals still hold true today!
Fairwood residents know they can depend on us for a tree removal service to be done quickly, safely, and efficiently. In addition, we follow best industry practices for preserving the environment as well as the highest level of safety requirements for the protection of our crews, our customers, and their property.
Other great reasons to choose us as your tree removal company:
We provide insurance claim assistance
You will receive a free written estimate
We have always been family owned and operated
If you have questions about a tree removal service for your property, we can be reached at (425) 569-0900.