Tree Removal in Carnation – Downed, Dead or Dangerous Trees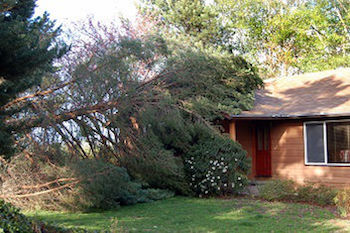 Business owners and homeowners in the Carnation community enjoy the advantages that beautiful trees provide. They increase the value of your property, provide privacy, and have environmental benefits as well. While preserving them is our first choice, there are a few circumstances when tree removal services may be necessary.
When we speak of dangerous trees, we are referring to those that have a higher potential of falling. When a tree is still standing and is already dead, or is decayed and dying, its ability to withstand extreme weather conditions is greatly reduced. Strong windstorms and the additional weight of ice or snow can easily break off large branches or even bring an entire tree down in the blink of an eye.
Opting for a tree removal service now is a proactive approach that Carnation property owners should consider. There are symptoms you can look for to determine if you are dealing with a dead or dying tree, such as:
Fungi growth at the base (i.e. mushrooms)
Peeling or chipping bark
Cracks and cavities in scaffold branches
Cracks within the main trunk
Signs of insect infestations
Dead branches hanging from the upper crown
P'n'D Logging and Tree Service is the tree removal company to call if you are concerned about a dangerous tree on your Carnation property. 425-569-0900
Tree Removal Service for Home & Business Property in Carnation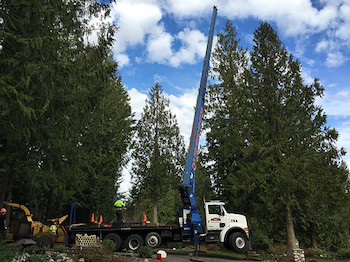 Whether you are a homeowner or a Carnation business owner, a hazardous tree can present a variety of problems. When a tree is first planted, the location may seem perfect. But as it grows and the landscape and surroundings change, issues can become apparent.
Sometimes pruning or trimming can eliminate the impediments, but there are other times when removing a tree makes more sense.
Blockage of sidewalks, walkways, streets
Interference with underground utilities
Roots are disturbing foundations
Branches are interfering with power lines
Our tree removal professionals utilize low-impact cranes and are experts in working in confined spaces and hard-to-reach areas.
Why Do Carnation Residents Choose Our Tree Removal Company?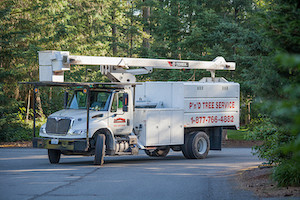 Because our tree removal company has worked with Carnation home and business property owners for 40+ years, we have earned a solid reputation for providing affordable rates, fast and efficient tree removal, and excellent customer service.
Also, we are committed to following best industry practices and are focused on having the highest level of safety procedures in place at all times. Protecting our crew and our customers is a top priority.
Other benefits of choosing our tree removal company:
Insurance claim assistance
A+ Better Business Bureau
Licensed, bonded and insured
Free estimates
P'n'D Logging and Tree Service is the company to call for your tree removal needs in Carnation. 425-569-0900