Do You Need A Certified Tree Arborist to Remove a Tree in Tacoma?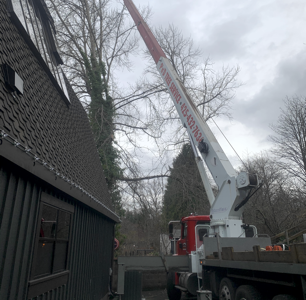 It's not always easy to know whether you need a tree arborist or not for advice on a tree that may need to be cut down in the Tacoma area. Certified arborists are tested by a testing authority and just like an arborist have the know-how and experience to advise you on such matters. It's certainly best to get a tree arborist to take a look and let you know if the tree is ready to be removed or if you have other options.
As an experienced tree arborist serving the Tacoma area and beyond, we can assist you in your decision on what to do with a tree that may be:
Endangering nearby structures
Posing an unacceptable risk to you and the public
Dead or dying
Severely diseased or insect-infested
We've got a form on our website that you can use to submit your information and we can contact you to set up a time to come and see and provide you with a free quote.
Tree Doctors Use a Crane to Remove Trees in Tacoma!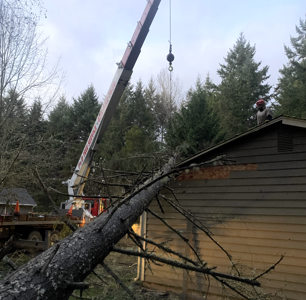 When you need tall trees removed, summon our tree doctors for crane removal in the Tacoma area!
Tree doctor, who's that? That's a common name for someone with experience in trees, who can help you determine the right course of action to take on a tree that may be distressed or showing other signs of hazard. Our tree doctors have the equipment, even a tree crane, knowledge and experience to help you out. We can safely remove trees from even the tightest of spots.
Some of the benefits you can expect from our tree doctors using a tree crane are:
Lower cost than the use of other methods
Safety for you, your property and surrounding structures
No damage or impact to the landscape
Increased labor efficiency over traditional methods
Contact us by phone or email today to set up a time for a free quote and review of your situation by one of our tree doctors.
Why Choose Our Tree Specialists?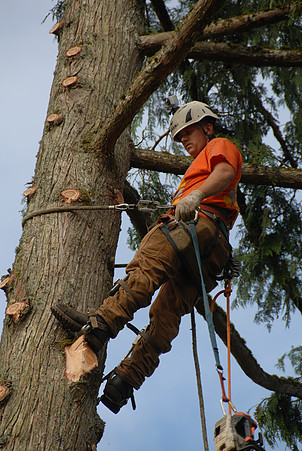 We have been in business helping customers of government, residential and corporate as respected tree specialists in the Tacoma area. We've got lots of recent reviews on third-party sites like Google and Yelp that you can review. We also post those to our website to make it easier for you to see them all in one place. We strive to give our customers the best service possible.
Our tree specialists can help customers in the Tacoma area with:
Tree pruning & trimming experts
Safe extraction of trees that pose a hazard
Diagnosis & treatment recommendations for tree problems
Highly skilled & knowledgeable service
Use of latest equipment and tools
Contact us at 425-432-7636 or use our web form to get a hold of us. We'll be happy to come take a look and provide a free quote.