OUR VISION
P'n'D Logging and Tree Service's vision is to provide the best tree removal experience to all our customers each day. We treat each of our customers as if they are our only customer. That's what makes us the best in the Northwest! We are the low impact tree removal experts in the Greater Seattle vicinity, fully licensed, bonded and insured for your protection. Call today for a free written estimate on any job, no matter how big or small. So contact us today for all your tree removal needs.
OUR SOLUTIONS
P'n'D Tree Service always provides free written estimates, excellent customer service and competitive prices every time. We are the residential, commercial and municipal tree service experts specializing in crane tree removals serving the Greater Seattle area. Our professionals have extensive experience working in every type of environment and conditions. From various residential sites to working with construction companies, builders, local cities and municipalities. We are the company to call for all your tree service needs.
OUR SERVICES
P'n'D Logging and Tree Service provides residential and commercial tree removal service across the Greater Puget Sound since 1977. We specialize in crane tree removals, tree climbing, tree felling, tree pruning, tree trimming, tree cutting, wood chipping, land clearing, logging, site development, excavation, firewood sales, log sales, and more. We always provide free written estimates so contact us today.
Do You Need A Certified Tree Arborist to Remove a Tree Spanaway?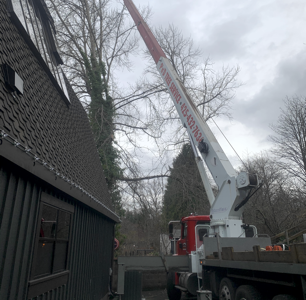 As the best tree service company in the Pacific Northwest since 1977, we have a team of highly qualified equipment operators, tree arborists, and tree specialists for jobs large and small.
If you have tree branches that need pruning or trees that have blown over during a windstorm, our tree arborist has the best training and skills necessary to get the job done at a reasonable price.
Our tree arborist, like all arborists, has clearly defined knowledge of trees, their lifecycle and the science behind it, and an understanding of how to keep landscape trees as healthy as possible. Tree arborists are generally capable of pruning branches and tree removals. You do not have to hire a certified arborist and pay a premium for these services.
Call us for expert services in Spanaway, WA, by a tree arborist with qualifications such as:
Technical competence in tree diagnosis, biology, & maintenance
Identifying factors that harm or enhance tree strength
Ability to recommend tree species for upgrading landscapes
Latest techniques in arboriculture
Call today for an experienced arborist or tree doctor to perform tree services and help preserve the natural health of your trees.
Tree Doctors Use a Crane To Remove Trees in Spanaway!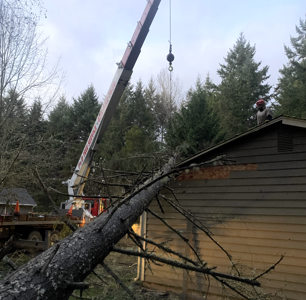 If you are concerned about an unhealthy tree on your property in Spanaway, call our tree doctor for an expert tree risk assessment and evaluation of its structure and health.
We depend on landscape trees to make life better for everyone; however, skilled management provides the most benefits to property owners, natural bird and wildlife habitats, and protection from soil erosion. Our tree doctors, commonly referred to as tree surgeons, are trained to diagnose the health of trees.
When a tree needs to be felled or removed from a property, our tree doctors work seamlessly with highly skilled low-impact crane operators to lift large trees to a safe work zone and complete the project within hours rather than days.
These are a few qualifications of a tree surgeon:
Extensive knowledge of tree species
Growing patterns of trees
Expert proficiency with equipment & power tools
Proper tree trimming skills & pruning techniques
Warning signs of disease
Call to schedule a consultation and to request a free written estimate. One call does it all!
Why Choose Our Tree Specialists?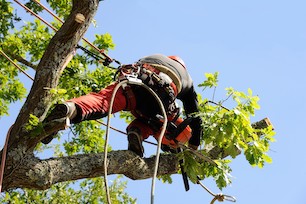 Home and business property owners in Spanaway call our tree specialists for affordable tree management services and outstanding professionalism.
Our knowledgeable and experienced tree specialists use cutting-edge arboricultural techniques, follow the latest accepted practices and procedures, and are up-to-date on local laws and regulations.
These are a few reasons to choose our tree specialists for projects large or small in Spanaway:
Excellent customer service
Highest industry-standard outcomes
Always a free written estimate
Licensed, bonded, and insured
Competitive prices
Experts in cost-efficient crane tree removals
Safety is our highest priority
Call P and D Logging and Tree Service, the best tree specialists in the Pacific Northwest! 425-432-7636