Do You Need A Certified Tree Arborist to Remove a Tree in Northeast Tacoma?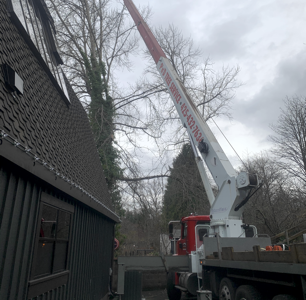 It is a question that is asked of us often and the answer can be somewhat complicated. The difference between a certified arborist and an arborist is simply that one has been tested for their knowledge. While that is good that they have a tested base of knowledge, it's not the only way to determine if someone knows something. An arborist could have decades of experience in the region and know more than a certified arborist and have the experience to back it up.
The question then becomes, who do you choose to help with tree removal or trees in general in the Northeast Tacoma area? A certified arborist with a few years of experience may be fine or you can choose an arborist with decades of experience and lots of positive third-party reviews from current and past customers. The bottom line is that you should get a written quote from whomever you choose and feel comfortable with them.
Some of the conditions in the Northeast Tacoma area that may warrant tree removal are:
Located too close to a home or other structures
Posing a threat or danger to persons or property
Creating a hazardous utility condition
Severely infected by disease or pests
Dead, weak, or dying
Contact us today for a written estimate – always free.
Tree Doctors Use a Crane to Remove Trees in Northeast Tacoma!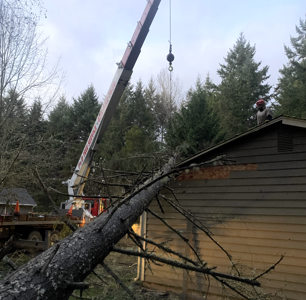 Tree doctors is another fancy term for those that work with trees. Our tree doctors in the Northeast Tacoma area have an additional tool at their disposal that some tree companies don't – a crane. A crane to remove trees can be very helpful and make the job easier for everyone.
If you have been looking around on the Internet for "the best tree doctor near me" in Northeast Tacoma – look no further. Call our office and set up a time for a written and in-person estimate.
Some of the benefits of crane tree removal that we offer that clients love are:
Safe tree removal to a work zone
Unharmed landscaping
Reduced labor time compared with traditional methods
Lower costs than the use of other methods
Use the contact form on our website to let us know the details of your particular job and then we'll get a hold of you to get you set up for a free estimate.
Why Choose Our Tree Specialists?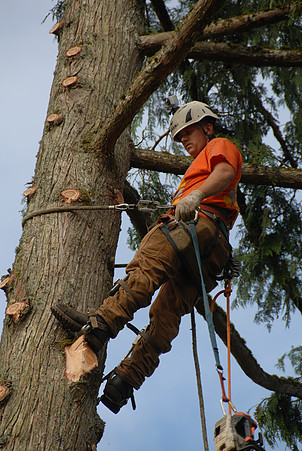 It's important to find a tree specialist who is familiar with the region's trees and who has the experience, tools, and knowledge to get your job done right the first time.
Since 1977 our tree specialists have been helping Northeast Tacoma area clients with their tree projects. We can work with residential, commercial, and municipality clients. We have lots of reviews on Google for you to review.
Our tree specialists have:
Knowledge of various aspects of tree surgery
Effective tree pruning and tree trimming
Tree diagnoses and treatment recommendations
General care and maintenance of trees
Contact us at 425-432-7636 and find the "expert tree specialist near me" in Northeast Tacoma!