Do You Need A Certified Tree Arborist to Remove a Tree in Milton?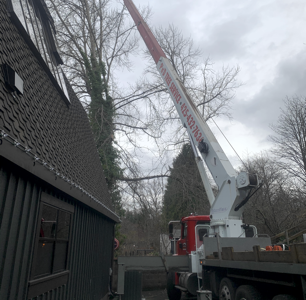 Tree arborists can help in a variety of situations where you may want to get advice on a tree that may be posing a risk to structures on your property. They can provide an assessment of the tree and help you evaluate the risk it truly poses before making any decisions about whether it needs to be removed or not.
A tree arborist can help you decide if a tree's condition is such that it can be saved from removal. If it needs to be removed, our experts can safely do it for you as well.
Our tree doctors, or arborists, are happy to look at your tree or trees and give you the information you need to decide what to do. Our tree arborists can check for signs of:
Endangering nearby structures
Posing an unacceptable risk to you and the public
Dead or dying
Severely diseased or insect-infested
Contact our main office today to inquire about a tree arborist appointment to help you determine the best course of action.
Tree Doctors Use a Crane to Remove Trees in Milton!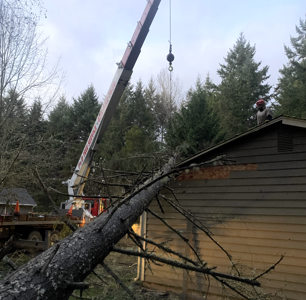 Crane tree removal by our tree doctors in the Milton area is a good choice if you decide you need to remove the tree.
If you have been searching on Google for the "best tree doctor near me" to tackle any tree removal problems, then call us without delay! Our tree doctor specialists can decide if low impact crane tree removal is the right choice. It's often a good one when you have large, hazardous trees that are in tight spaces or ones that have already fallen on structures.
A few of the additional benefits our tree doctors can provide with our crane tree removal for higher risk trees are:
Increased labor efficiency over traditional methods
Safety for you, your property, and surrounding structures
No damage or impact on the landscape
Lower cost than the use of other methods
Contact our office at 425-432-7636 to inquire about our free estimates by our tree doctors.
Why Choose Our Tree Specialists?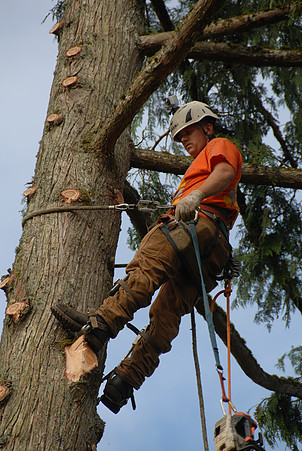 Our tree specialists have been serving Milton and surrounding areas for years – since 1977! We are committed to the safe removal of trees that are dying or where tree disease has taken over and treatment is no longer an option.
A few more reasons Milton residents choose our tree specialists are:
Tree pruning & trimming experts
Safe extraction of trees that pose a hazard
Diagnosis & treatment advice for tree problems
Examining structural and disease issues
Use of latest machinery and tools
Highly skilled & knowledgeable
Licensed, bonded, and insured
Contact our tree specialists today by phone at 425-432-7636 or online using the forms on our website.