Do You Need A Certified Tree Arborist to Remove a Tree in Maple Valley?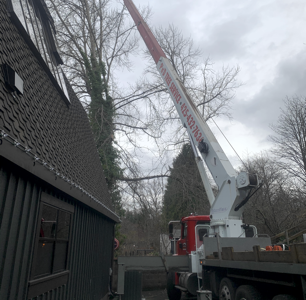 As a reputable tree arborist serving Maple Valley, we are seasoned professionals trained and equipped in the principles of tree care.
While we value healthy trees and view tree removal as a last resort, as a tree arborist we know how to diagnose tree problems and determine when treatment is no longer a viable option for saving a tree.
If you are thinking of hiring a tree arborist to assess the health and safety of a tree, call us. We are equipped to evaluate and determine if tree removal service is recommended when the tree is:
Posing an unacceptable risk
Dead or dying
A potential obstruction created by storm damage
Severely decayed or diseased
As a tree arborist, we have the equipment to manage the hazards of tree removal and avoid risk to property or nearby utilities.
Tree Doctors Use a Crane to Remove Trees in Maple Valley!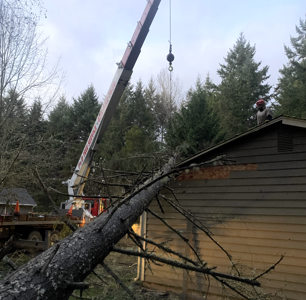 As a tree specialist and tree doctor serving Maple Valley, we can remove trees with the assistance of our crane to greatly reduce labor time.
If you are concerned about one or more of your trees that appear to be dead or dying, consult with our reputable tree doctor to accurately diagnose tree problems.
If you are searching for the "best tree doctor near me" with solutions second to none, call us for low impact crane tree removal service to ensure safe extraction, along with the following added benefits:
Minimal or no impact to the surrounding property
Greater labor efficiency than traditional methods
Lower cost than other methods
Our professional tree doctor is committed to promoting healthy, thriving trees. However, when a tree requires removal for any reason, we are dedicated to providing the finest tree removal service in the industry with our low impact crane equipment and skills. Call today to tell us what you need, and to request a free written estimate for tree doctor prices!
Why Choose Our Tree Specialists?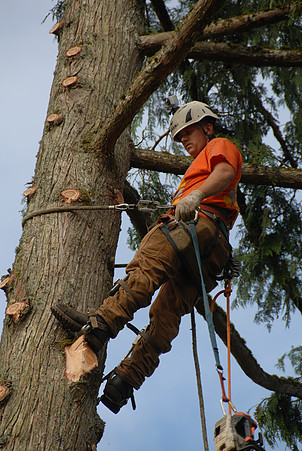 Our trained tree specialists serving Maple Valley are knowledgeable and experienced in tree care services. As tree specialists, we understand the investment that you have in trees, and how it contributes to your property value.
Choosing our tree specialists who proudly serve the Maple Valley area can help maintain the health of your trees and protect your investment with proper tree care services that may include:
Safe and efficient tree removal
Tree pruning
Tree trimming
Emergency tree removal service
Tree problem diagnosis & treatment recommendations
Call P and D Logging and Tree Service for expert "tree specialists near me" who are trained in tree services. 425-432-7636