OUR VISION
P'n'D Logging and Tree Service's vision is to provide the best tree removal experience to all our customers each day. We treat each of our customers as if they are our only customer. That's what makes us the best in the Northwest! We are the low impact tree removal experts in the Greater Seattle vicinity, fully licensed, bonded and insured for your protection. Call today for a free written estimate on any job, no matter how big or small. So contact us today for all your tree removal needs.
OUR SOLUTIONS
P'n'D Tree Service always provides free written estimates, excellent customer service and competitive prices every time. We are the residential, commercial and municipal tree service experts specializing in crane tree removals serving the Greater Seattle area. Our professionals have extensive experience working in every type of environment and conditions. From various residential sites to working with construction companies, builders, local cities and municipalities. We are the company to call for all your tree service needs.
OUR SERVICES
P'n'D Logging and Tree Service provides residential and commercial tree removal service across the Greater Puget Sound since 1977. We specialize in crane tree removals, tree climbing, tree felling, tree pruning, tree trimming, tree cutting, wood chipping, land clearing, logging, site development, excavation, firewood sales, log sales, and more. We always provide free written estimates so contact us today.
Do You Need A Certified Tree Arborist to Remove a Tree Goose Prairie?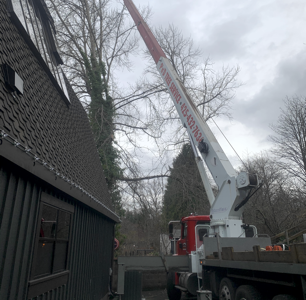 Our tree arborists work seamlessly with a team of tree removal specialists to determine the best way to remove potentially dangerous trees from landscapes in Goose Prairie without causing harm to homes or surrounding areas.
An arborist has experience working with trees, specific knowledge of trees such as the science of their lifecycles, and understands how to provide extended specialized care. A certified arborist is an arborist that has been tested against a standard by a certification authority.
Does tree removal require the services of a certified tree arborist? Certification may be beneficial in certain situations but is not necessary or required. A knowledgeable tree arborist with years of experience is generally acceptable for the task and is usually less expensive.
Our tree arborists have a wealth of knowledge and qualifications, such as:
Skilled in pruning, trimming, & tree removal services
Tree biology, diagnosis, & maintenance practices
Identifying factors that enhance or harm tree strength
Latest techniques in arboriculture
Call to learn how our tree arborist can help maintain your tree investment.
Tree Doctors Use a Crane To Remove Trees in Goose Prairie!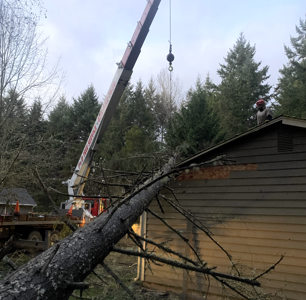 We are tree specialists with on-staff tree doctors that provide proactive tree monitoring to help maintain healthy landscapes.
A tree doctor, also referred to as a tree surgeon, performs specialized arboricultural services, or the cultivation, management, and detailed study of individual trees. Our tree doctors work seamlessly with our crane operators to provide safe tree removal services in Goose Prairie.
We rely on our tree doctors to conduct tree risk assessments and visual inspections and recommend the best course of action when there is a potential threat to safety.
Our services frequently call for low-impact crane-assisted tree removals that provide considerable benefits over conventional methods:
Reduced labor time – hours vs. days
Minimal to no impact on the surrounding landscape
Lower overall costs
Safe large tree removals from hard-to-reach areas
Call for tree doctors with years of experience in diagnosing, healing, and maintaining trees and working on our team of tree removal specialists.
Why Choose Our Tree Specialists?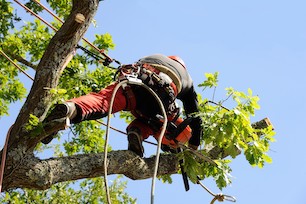 As a family-owned and operated company since 1977, we offer professional tree services for residential, business, commercial, and municipal customers in Goose Prairie and throughout the Greater Puget Sound and Eastern Washington areas.
Our experienced team of tree specialists and professional equipment operators share a strong vision for tree maintenance, removals, pruning, and maintenance following established arboricultural procedures, techniques, and accepted practices.
We have expert lift bucket and low-impact crane operators that work seamlessly with our tree specialists to conduct emergency tree removals and general tree maintenance like trimming and pruning.
These are a few reasons to choose our tree specialists in Goose Prairie:
Licensed, bonded, & insured
A free written estimate & competitive rates
Highest industry-standard outcomes
No job too large or small
Expert crane tree removal services
Call P and D Logging and Tree Service for experienced tree specialists near you. One call does it all! 425-432-7636