Do You Need A Certified Tree Arborist to Remove a Tree in Fairwood?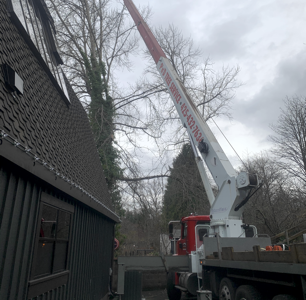 What can a tree arborist do for you? Is it mandatory that they are a certified arborist? A tree arborist can help you determine if a tree must be removed and what the safest way to do it is.
Experienced tree arborists are going to be what you need. Whether they are a certified arborist or not isn't really the issue. If they have the knowledge and experience necessary for the job then you will be pleased with the outcome. Certification simply means they have been tested on certain knowledge.
Some common dangerous tree conditions that likely will require removal of the tree can include:
Severely infected by disease or pests
Creating a hazardous utility condition
Dead, weak or dying
Posing a threat or danger to persons or property
Located too close to a home or other structures
One of our tree arborists will be able to help you determine the best and safest way to remove the tree. We are happy to do free written estimates so you can be assured of a quality job at a reasonable price before you agree to it. Call us today and set up a time to do it.
Tree Doctors Use a Crane to Remove Trees in Fairwood!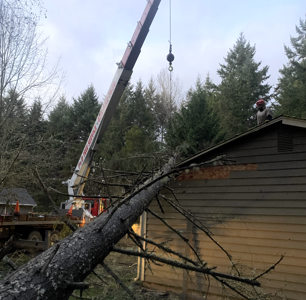 When you need tall trees removed, summon our tree doctors for crane removal in the Tacoma area!
Our staff tree doctors will be able to help Fairwood area customers with their tree removal needs. Our tree doctors are experienced and trained to diagnose tree issues and can even use a crane to remove trees in particular situations. If you have been searching on Google for the "best tree doctor near me," then you have come to the best place and you can give us a call today!
As a licensed, bonded and insured tree company our tree doctors can provide free estimates for crane tree removal which has many benefits. Among the highest priority of them are:
Safe tree removal to a work zone
Unharmed landscaping
Reduced labor time compared with traditional methods
Lower costs than the use of other methods
Contact us today for a free written estimate from one of our tree doctors.
Why Choose Our Tree Specialists?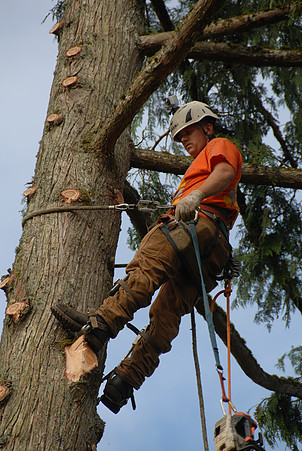 A tree specialist is someone who has experience with the care of shrubs or trees and can include tree surgery as well as the diagnosis, prevention, and treatment of tree diseases or the control of pests.
You can feel confident in your choice to use our tree specialists who have experience in the Fairwood area with tree services for commercial, government, and residential customers alike. We have lots of positive reviews on websites like Google, Yelp, and even our own. You can see the quality work and happy customers that our tree specialists have worked for.
You've finally found an "expert tree specialist near me" and the next step is to simply give us a call. Some of the reasons that past customers choose our tree specialists for work in the Fairwood area are:
Tree diagnoses and treatment recommendations
General care and maintenance of trees
Knowledge of various aspects of tree surgery
Effective tree pruning and tree trimming
Contact us today by phone at 425-432-7636.