Do You Need A Certified Tree Arborist to Remove a Tree in Factoria?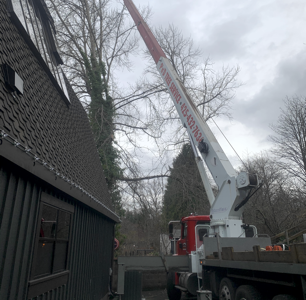 While it may not be the question of the century, or even reveal the meaning of life, if you are in the market for tree services it is an important one – do you need a certified arborist to remove trees? The short answer is no, they don't need to be certified but certainly should be an arborist!
An arborist is simply someone who has knowledge and experience with trees. A certified one has simply been tested to have the knowledge that one needs. Experience in the matter though can count for a lot as it does in our case. Our tree arborists follow the accepted practices of certified ones for:
Tree assessment and diagnoses
Tree removals including use of low impact crane
Tree pruning, trimming, thinning & felling
Emergency tree removals
Our tree arborists will help determine when the right time to remove trees is and then we will give you a recommendation on the best way to go about it. Call us today at our office or submit your request using our online form.
Tree Doctors Use a Crane to Remove Trees in Factoria!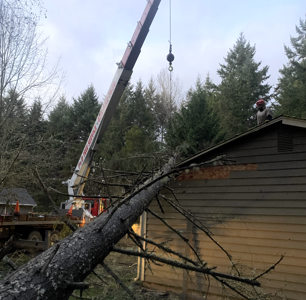 When you need tall trees removed, summon our tree doctors for crane removal in the Tacoma area!
Believe it or not, our tree doctors will often use a crane to remove trees in Factoria and beyond for commercial, residential and governmental customers. For trees that pose a risk to the environment, they are in and need removal, our tree doctors will determine the right equipment to use for the circumstances. If you've been searching for the "best tree doctor near me," look no further!
Our tree doctors will assess the situation and then make a recommendation on the best way to proceed with tree removal. In some cases, using a crane may be the best course of action for these reasons:
Capable of close-quarter removals
Reduced labor time – hours vs. days
Little to no landscaping damage
Lower cost than using traditional methods
Give us a call or use our online website form to get a hold of us and set up a time for a free written estimate to be provided to you.
Why Choose Our Tree Specialists?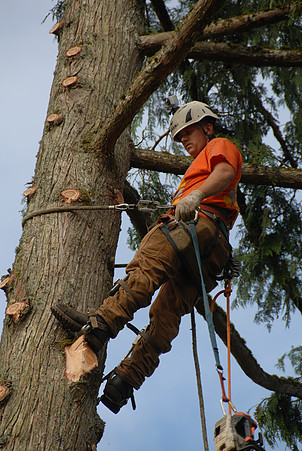 You certainly have a lot of options for hiring a tree specialist, but not all providers are equal. Look to third-party review sites for up to date testimonials as well as an expertise fit with what you need to be done. Don't settle for someone that doesn't have good reviews and experience doing what you need them to do for you.
In our case, we are experienced tree specialists and you'll find no shortage of up to date reviews on our website, Google and Yelp too. We've been active and serving the Factoria neighborhoods for years now and are familiar with the area and its vegetation and land structures.
Here are just a few of the reasons that customers choose our tree specialists to help them out:
Licensed, bonded & insured for client protection
Most experienced tree surgeon in the PNW
Safety is our highest priority
Tree care experts
Free written no-obligation price quotations
Take the first step and contact our office this week. Our number is 425-432-7636 or you can use our online form as well. We are happy to provide a free tree removal quote for the Factoria area.