OUR VISION
P'n'D Logging and Tree Service's vision is to provide the best tree removal experience to all our customers each day. We treat each of our customers as if they are our only customer. That's what makes us the best in the Northwest! We are the low impact tree removal experts in the Greater Seattle vicinity, fully licensed, bonded and insured for your protection. Call today for a free written estimate on any job, no matter how big or small. So contact us today for all your tree removal needs.
OUR SOLUTIONS
P'n'D Tree Service always provides free written estimates, excellent customer service and competitive prices every time. We are the residential, commercial and municipal tree service experts specializing in crane tree removals serving the Greater Seattle area. Our professionals have extensive experience working in every type of environment and conditions. From various residential sites to working with construction companies, builders, local cities and municipalities. We are the company to call for all your tree service needs.
OUR SERVICES
P'n'D Logging and Tree Service provides residential and commercial tree removal service across the Greater Puget Sound since 1977. We specialize in crane tree removals, tree climbing, tree felling, tree pruning, tree trimming, tree cutting, wood chipping, land clearing, logging, site development, excavation, firewood sales, log sales, and more. We always provide free written estimates so contact us today.
Do You Need A Certified Tree Arborist to Remove a Tree Buckley?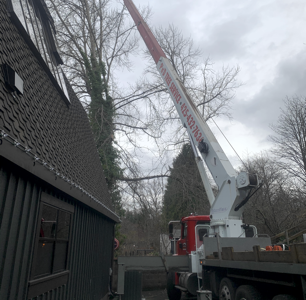 A certified arborist is an arborist that has been tested against a standard by a certification authority.
All tree arborists are knowledgeable about trees and have an understanding of how to provide lasting specialized care, the science supporting the lifecycle of trees, and how to remove a tree.
Removal of dead, dying, or diseased trees that pose a potential safety risk does not require special education or certification. You can call our tree arborist to remove trees from your property without the premium cost of hiring a certified arborist. Our tree arborist provides services with the best training and skills necessary to get the job done right at a reasonable price.
A certified arborist may be beneficial in certain circumstances but is not required. You can call for services such as tree pruning, trimming, and removals in Buckley, WA, rendered by our experienced tree arborist with qualifications such as:
Knowledge of tree health & its growing environment
Specialist in tree pruning, trimming, & removals
An understanding of tree species
Ability to identify factors that harm or enhance tree strength
Call to schedule our tree arborist, your trusted tree specialist, to maintain your investment!
Tree Doctors Use a Crane To Remove Trees in Buckley!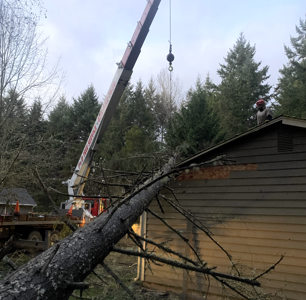 Arborists are tree doctors, often referred to as tree surgeons specializing in trimming, pruning, and tree removal services.
We always recommend consulting a professional tree doctor in situations involving trees that pose a safety risk. They are available for risk assessments such as tall trees near power lines, sizable low-hanging branches, unhealthy trees with dead or dying branches, and vertical cracks or large open wounds in the trunk.
Our on-staff tree doctors are professionals that practice arboriculture, or the management, cultivation, and detailed study of individual trees. Our tree doctors work seamlessly with skilled equipment operators to remove trees in Buckley using our low-impact crane that offers tremendous benefits over conventional methods:
Reduced labor time – hours vs. days
Little to no impact on the surroundings
Lower removal costs
Ability to remove large trees from hard-to-reach spaces
Removal of small trees between dwellings or on a slope
Call our tree doctors for a risk assessment and complimentary written estimate for tree removal services.
Why Choose Our Tree Specialists?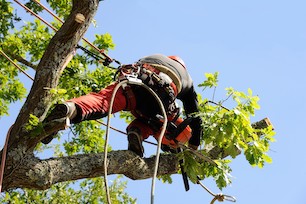 As a family-owned and operated company since 1977, we employ tree specialists experienced in pruning, trimming, and removal services for all kinds of trees.
Our tree specialists have enhanced knowledge in tree-care management practices such as tree biology, pruning, trimming, cabling and bracing, and technical concepts required for proper tree care in Buckley.
Our tree specialists promote good maintenance programs using arboricultural techniques, procedures and accepted practices.
These are a few reasons to choose our tree specialists for services in Buckley:
Professional expertise in proper tree care & management
Licensed, bonded, & insured
Always free written estimates
Highest industry-standard outcomes
Call P and D Logging and Tree Service for the best tree care services in the Pacific Northwest! 425-432-7636