Stump Removal in Ravensdale – Fast & Safe for the Environment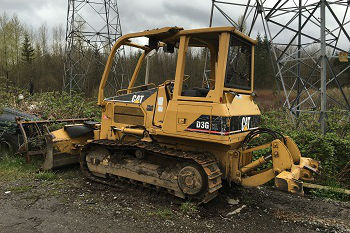 When you're looking for a stump removal service for your home or business property in the Ravensdale community, there is no better company to call than P'n'D Logging and Tree Service. As a family owned and operated business since 1977, we not only have the experience, but we know how to get rid of tree stumps quickly, efficiently and safely!
We know that Ravensdale residents may be considering DYI methods instead of hiring a professional tree stump removal service. Some of the options you may be thinking about could involve chemicals. While many of these products can make a difference, although slowly and often not completely, you still run the risk of these chemicals doing damage to the surrounding area.
A safer and faster way for tree stump removal in Ravensdale is to call in the pros at P'n'D Logging and Tree Service who:
Offer competitive and affordable pricing
Use a non-chemical approach for stump removal
Provide stump grinding service in Ravensdale
Tree Stump Removal for Ravensdale Home & Business Property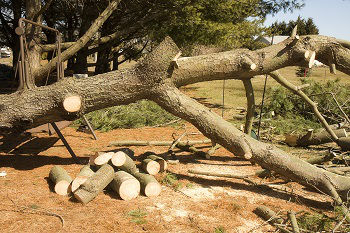 A left-over stump does more than just distract from the beauty of your landscaping. A large or even small stump can create a tripping hazard for family members and friends, or employees and visitors to your Ravensdale business. Opting for a professional tree stump removal service is the best way to avoid potential accidents and reduce any property liability claims.
Call us today for a stump grinding service that will:
Eliminate the eyesore from your landscape
Make mowing and lawn care easier
Prevent tripping accidents
We are happy to provide Ravensdale residents with a free, written estimate for any tree stump removal service. Give us a call at 425-569-0900 today!
Why Call Us for Stump Grinding Service in Ravensdale?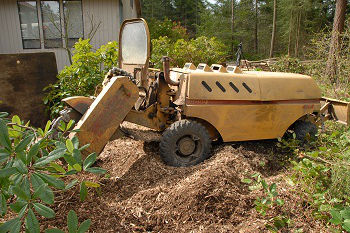 If you are still wondering why a stump grinding service is necessary, here's another great reason to take action today! In addition to leaving an ugly stump on your property or having to worry about accidents, think about the rotting wood itself.
Whether the tree stump is alive or dead, it is the perfect breeding ground for pests, insects and even rodents! Be on the lookout for:
Termites
Wood-boring insects
Ants, carpenter ants and beetles
Not only can these unwanted pests or insects make their way to your Ravensdale home or office, but they can also damage other trees and shrubs that are in the surrounding area. Our stump grinding service uses a high-speed disc that have teeth to grind up the stump and roots into small wood chips. The balance of the stump will be below grade which so you can landscape the area.
In Ravensdale, you can reach us at 425-569-0900.