Crane Tree Removal Services for Snoqualmie Pass Residents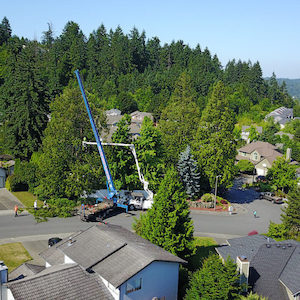 Do you have a tree in your property that is restricted by a retaining wall or is causing root damage to commercial or residential buildings? You could require crane tree removal experts to handle the issue before it becomes a safety hazard. Crane tree removal is a specialized technique that allows trained professionals to move a tree in sections to a safe work zone. Our team of tree experts is highly experienced in using crane tree removal technology.
In addition to safe crane tree removal operations in Snoqualmie Pass, WA, we also provide the following services:
Tree pruning and clearing
Stump grinding
Logging and land clearing
Site development
Would you like to know what crane tree removal services cost? Visit our website to schedule a free written cost estimate for our service. Alternatively, you can call and speak to a trusted representative at (425) 569-0900.
A Tree Crane Can Keep Your Snoqualmie Pass Landscaping Unharmed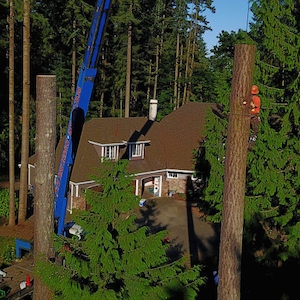 Some property owners are hesitant to outsource tree crane removal services for fear of harming their landscape. We advise calling tree crane experts as soon as you are at risk of a falling tree. Waiting is likely to result in more damage to your landscape than safe tree crane extraction.
These are some of the scenarios indicating that your property needs to be evaluated by tree crane specialists:
An extremely tall tree at risk of falling
A tree moving in strong winds close to a building or electrical lines
Trees restricted in tight quarters
If you have questions about tree crane operations, please call and speak with us at (425) 569-0900.
Snoqualmie Pass Low Impact Tree Removal with a Crane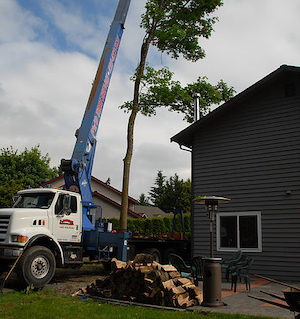 Some clients call us asking how using tree removal with crane techniques will damage their property. We reassure our clients that tree removal with cranes is low impact and does less harm to the natural landscape than traditional extraction methods. Our workers are highly trained in tree removal with crane techniques to ensure low impact and efficient operations.
These are some of the benefits of using our service for low impact tree removal with a crane in Snoqualmie Pass:
Professional tree experts
24-hour emergency services
Over 40 years of experience
Licensed, bonded, and insured
Do you require crane tree services for your residential or business property? Why not call P'n'D Logging and Tee Service to treat your landscape as soon as possible. Call (425) 569-0900 for low-impact tree crane services.