Crane Tree Removal Services for Sammamish Residents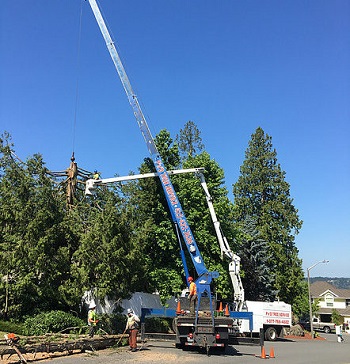 Use of crane tree removal for Sammamish residents by highly skilled operators is an option offered by only a limited few companies. .
While safety is our highest priority, as a professional tree company offering crane tree removal, we also make every effort to preserve the landscape.
Using the best crane for tree work, we provide crane tree removal of large, dangerous and storm damaged trees leaving the turf and landscapes virtually unharmed. Our crane tree removal services involve the use of specialized equipment and techniques to:
Carefully lift and remove trees to a safe work zone
Extract trees from tight & hard-to-reach areas
Remove trees from slopes or hillsides
We specialize in high-risk crane tree removal services. Call today for a free written estimate!
A Tree Crane Can Keep Your Sammamish Landscaping Unharmed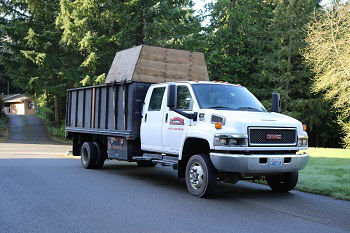 If you have a diseased or dying tree, or a large tree leaning toward your home that poses a potential threat, our tree crane can safely and efficiently remove it, leaving your landscaping unharmed!
We have years of experience handling large tree removals from residential properties using our low-impact tree crane in Sammamish.
If you need tight quarter tree removal, call us for tree crane service by a highly skilled crew working seamlessly to safely lift and place the tree into a work zone. Our tree crane operators have experience in providing all types of crane tree services such as:
Removals of disease or pest-infested large trees
Storm damage tree removal with a crane
Locations on slopes or over septic systems
Large tree removal from a fenced-in yard
Emergency tree removal services
Call us for tree crane work that will leave your landscaping unharmed, and completed within a few hours rather than days!
Sammamish Low Impact Tree Removal with a Crane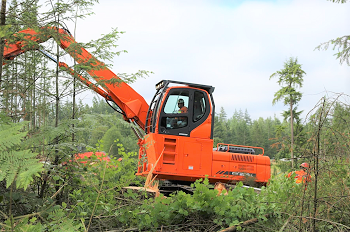 Choosing low impact tree removal with a crane by Sammamish residents is the perfect choice for safely removing huge trees from a difficult area. With safety as our highest priority, our crew is a highly skilled team using tree removal with a crane and proper rigging techniques to ensure a damage and injury-free result.
These are a few additional reasons to call us for tree removal with a crane by our professional team:               
Licensed, bonded and insured
Preservation of landscape appearance
Assistance with insurance company claims
Always free written estimates
Competitive rates
Use of our tree removal with a crane means getting the job done in a fraction of the time, leaving your landscaping virtually unharmed.
Call P and D Logging and Tree Service for the best crane for tree work at a competitive tree removal cost! One call does it all! 425-569-0900