Crane Tree Removal Services for Puyallup Residents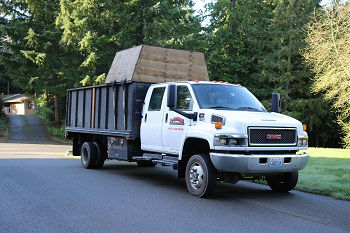 Do you need a tree removed from your property? Leave your tree removal needs to the professionals. DIY tree removal can potentially result in human injury or costly property damage. It takes the right tools, training and equipment to safely and efficiently remove trees. Rely on the pros at P'n'D Logging and Tree Service. We offer crane tree removal services for Puyallup, WA residents.
With our crane tree removal, residents of Puyallup can rest easy knowing that their trees will be removed with minimal impact on the surrounding areas. Tree removal with crane is not only minimally disruptive, it is also:
Faster
Less labor intensive
Cost efficient
So, if you are looking to get a tree removed, contact us to know more about our crane tree removal. We also give FREE, written estimates so our customers can know how much crane tree removal will cost before any work starts.
A Tree Crane Can Keep Your Puyallup Landscaping Unharmed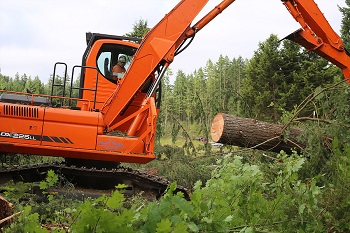 Using a tree crane is one of the best ways to remove a tree that is:
Unwanted
Damaged or diseased
Becoming a safety risk
We offer a low impact tree removal service using a tree crane. Serving Puyallup and its nearby area, our tree crane ensures the landscaping remains unharmed during the tree removal process. Another benefit of using a tree crane is that the job gets done faster than traditional methods.
So, if you are interested in crane tree removal, get in touch with us today. We use state-of-the-art tree crane that gets the work done right, the first time.
Puyallup Low Impact Tree Removal with a Crane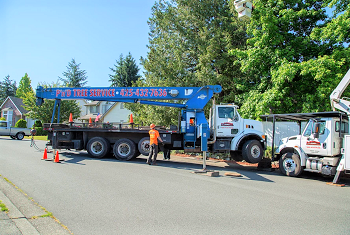 We are an experienced tree service company that takes great pride in our team of skilled technicians and our cutting edge equipment. Our tree removal with crane helps our Puyallup clients get rid of unwanted trees without any damage to their properties.
Our tree removal with crane is one of the most efficient ways of lifting a tree and moving it to a safe zone. We offer tree removal with crane for a wide range of properties, including but not limited to:
Private homes
Businesses
Municipal properties
Not only tree removal with crane, we can also provide you with a stump grinding services to remove those unsightly stumps from your property.
Feel free to call P'n'D Logging and Tree Service for any additional information on our tree removal with crane for Puyallup residents and businesses. (425) 569-0900.