Crane Tree Removal Services for Fife Residents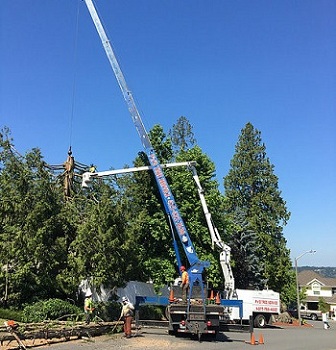 Look no further than P'n'D Logging and Tree Service if you have a job for crane tree removal from your Fife, WA property. We are a highly experienced tree company that has been serving the community since 1977. Tree removal with crane is among the wide-ranging services delivered by us.
Though trees are valuable landscaping elements, sometimes these become a liability and have to be removed. Doing it with a tree crane is an excellent idea. Our company is the foremost source for crane tree removal services in Fife, with a reputation for completing the work:  
Fast
Diligently
With utmost precision
Smoothly and safely
There may be several contractors around that do crane tree removal. However, not all of these are equipped for the thoroughly professional tree removal with crane that you want and deserve.
Luckily, you can rely on us for the best crane for tree work and the most competent crane tree removal crew.
A Tree Crane Can Keep Your Fife Landscaping Unharmed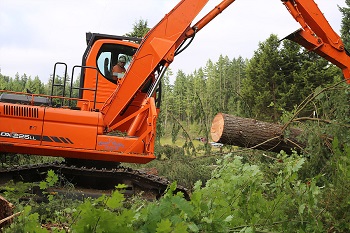 Are you worried about landscaping damage while getting a tree or more taken out of your yard? Relax! There is an easy solution – call us for tree crane service.
Tree removal with crane does not involve extensive rigging that is typically necessary when felling the tree. The usage of a tree crane means lifting the tree limbs and logs out of the yard. With minimal work on the ground, crane tree removal leaves the lawn and landscape unharmed.
Such benefits from utilizing a tree crane in your Fife property come only when you hire the right professionals for the job. We are the company to trust for:
The best crane for tree work
Skilled tree crane operators
Diligent, no rush crane tree removal
Fife Low Impact Tree Removal with a Crane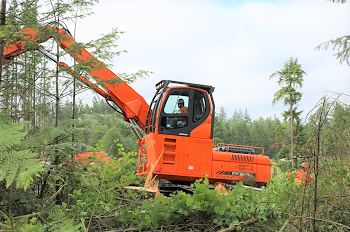 Our services are often sought for tight quarter tree removal and tall tree removal with crane. These hazardous jobs get a lot easier when the chosen method is tree removal with crane.
We can perform tree removal with crane from Fife properties even when the trees to be tackled are not particularly dangerous. All our jobs for tree removal with crane make a low adverse impact on:                 
Your landscaping investment
Safety of our tree removal crew
The environment
Your household work or business
Let P'n'D Logging and Tree Service be your first and only choice for tree crane service in the Fife area. Reach us at (425) 569-0900 to schedule a crane tree removal job.