Crane Tree Removal Services for Enumclaw Residents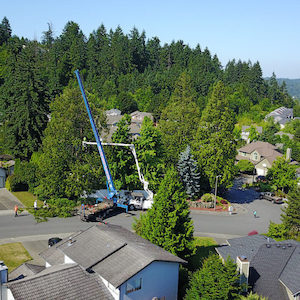 When it is time to remove a large tree from your yard, hiring just any tree service company will not do. It is advisable to find one that maintains capabilities for doing tree removal with crane. There is none better than P'n'D Logging and Tree Service for crane tree removal services in Enumclaw, WA. Founded in 1977, our company has:
Invested in the best crane for tree work
Crew with vast experience in tree removal with crane
Past record of providing excellent tree crane services
We have the capabilities and confidence for handling crane tree removal job of any size or scope. Whether the situation calls for crane tree removal from a big lot or tight quarter tree removal, our tree crane operators can be trusted for an efficient job.
Call us right away to schedule crane tree removal from your Enumclaw property.
A Tree Crane Can Keep your Enumclaw Landscaping Unharmed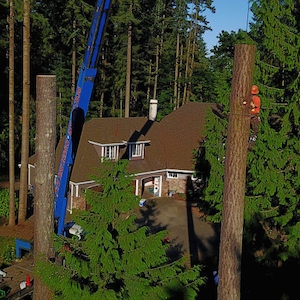 There are several benefits to going in for tree removal with crane instead of resorting to the traditional methods for taking out a tree or more from any yard. Use of a tree crane is a lot:
Less complicated and laborious
More efficient
Faster
Safer
More economical
Do not think twice about calling us with a tree crane to your Enumclaw property if you want to get rid of damaged, hazardous or wrongly located trees without harming the landscape and nearby structures. While our tree climber cuts tree sections, another technician maneuvers the tree crane expertly to lift those pieces carefully and safely away from the yard to our log truck. You can count on us to leave your lawn, flowerbeds and landscape intact with diligent tree removal with crane.
Enumclaw Low Impact Tree Removal with a Crane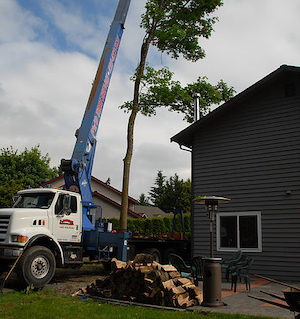 Our company gives top priority to safety on all its tree service jobs. Therefore, we offer the option of tree removal with crane to Enumclaw residents.
Obviously, crane tree removal has minimal environmental impact and eliminates the chances of damage to buildings or objects in the surroundings. Our tree crane services even prevent injuries to tree removal technicians that can happen when using the conventional rigging and hauling techniques. The best thing about hiring us for tree removal with crane is that we are:
Family owned and operated
Licensed, bonded and insured
Upfront and reasonable with pricing
Hire P'n'D Logging and Tree Service for tree removal with crane in Enumclaw. Call (425) 569-0900. Get a tree estimate on crane tree removal cost.