Crane Tree Removal Services for Crown Hill Residents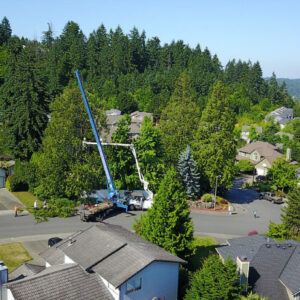 Since 1977 we have been providing a variety of tree and land clearing services, offering crane tree removal is one of our specialties. Crane tree removal is often the most effective solution for extracting trees located in tight quarters or close to foundations or water pipes.
These are a few reasons why we are a recommended choice for crane tree removal on properties in Crown Hill, WA:
Over 40 years of land and tree work experience
Efficient completion for all types of jobs
Free written price estimates and competitive prices
Advanced crane tree removal equipment
Please get in touch with us directly at (425) 569-0900 for more information about crane tree removal costs in your area.
A Tree Crane Can Keep Your Crown Hill Landscaping Unharmed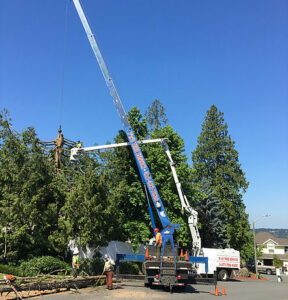 Are you worried that strong storms and heavy weather conditions could cause vegetation to collapse on your property? Rather than waiting for the worst-case scenario to happen, we encourage residents to call tree crane specialists to evaluate their land for hazardous vegetation. We utilize some of the best cranes for tree work in the industry and have a reputation for maintaining surrounding landscapes during our tree crane operations.
These are some of the tasks that we use tree cranes to execute in the Crown Hill area:
Removal of trees restricted by infrastructure
Damaged or sick trees at risk of falling
Storm-damaged tree removal
Clearing overgrown, unwanted vegetation
Call us today if you own a property that might require tree crane removal services. We look forward to helping you keep your property free from the danger of falling trees. (425) 569-0900.
Crown Hill Low Impact Tree Removal with a Crane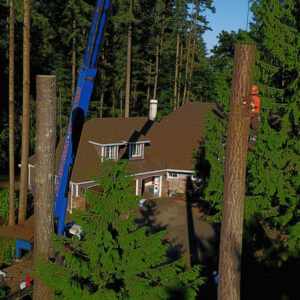 Are you looking to outsource crane tree service specialists in Crown Hill? We are a family-owned and operated business serving the greater Puget Sound and Eastern Washington. We are recognized for our experience working in all types of conditions and refined techniques for tight quarter tree removal.
At P and D Logging and Tree Services, our techniques for tree removal with a crane ensure minimal to no damage to:
Soil and property terrain
Surrounding gardens
Vegetation, shrubs, and plants
Nearby infrastructure
The process of tree removal with a crane involves removing unwanted trees in parts and safely relocating them to a secure work zone. If you would like to speak with one of our trusted representatives about low-impact tree crane services in your area, call (425) 569-0900.