OUR VISION
P'n'D Logging and Tree Service's vision is to provide the best tree removal experience to all our customers each day. We treat each of our customers as if they are our only customer. That's what makes us the best in the Northwest! We are the low impact tree removal experts in the Greater Seattle vicinity, fully licensed, bonded and insured for your protection. Call today for a free written estimate on any job, no matter how big or small. So contact us today for all your tree removal needs.
OUR SOLUTIONS
P'n'D Tree Service always provides free written estimates, excellent customer service and competitive prices every time. We are the residential, commercial and municipal tree service experts specializing in crane tree removals serving the Greater Seattle area. Our professionals have extensive experience working in every type of environment and conditions. From various residential sites to working with construction companies, builders, local cities and municipalities. We are the company to call for all your tree service needs.
OUR SERVICES
P'n'D Logging and Tree Service provides residential and commercial tree removal service across the Greater Puget Sound since 1977. We specialize in crane tree removals, tree climbing, tree felling, tree pruning, tree trimming, tree cutting, wood chipping, land clearing, logging, site development, excavation, firewood sales, log sales, and more. We always provide free written estimates so contact us today.
Crane Tree Removal Services for Clyde Hill Residents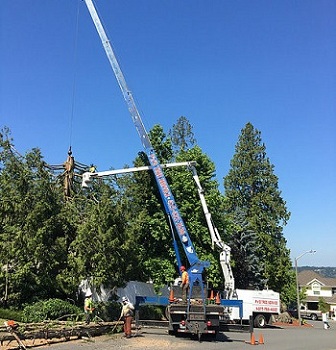 Removing trees from any yard, driveway, and street can be hazardous, especially when it involves large tree removal or tight quarter tree removal. At P'n'D Logging and Tree Service, we offer crane tree removal services in Clyde Hill, WA, as the best solution to this problem.
The use of a tree crane is generally considered expensive by many property owners. However, this is a misconception, and crane tree removal works out to be the most economical way of taking out big or dangerous trees.
Some situations that are ideal for our crane tree removal services in Clyde Hill include removing a:      
Tree growing too close to the house
Diseased tree that is unsafe to climb
Tree from a difficult-to-access yard
Storm-damaged nearly uprooted tree
Get in touch with us today to schedule a job for crane tree removal from your property.
A Tree Crane Can Keep Your Clyde Hill Landscaping Unharmed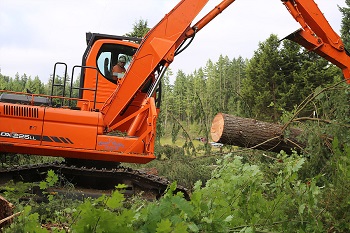 Protection of the landscaping against damage during tree removal is the most significant benefit of using a tree crane for the job. Tree removal with crane is an excellent idea for safely taking out tree branches located high up above the roof or power lines.
Working with a tree crane in your Clyde Hill property minimizes the walking around in the yard by our technicians. Every tree removal job needs to be tackled differently, and deploying a tree crane is advisable if you want the job done with:       
Minimal soil disturbance
No impact on the surrounding foliage
Hardscapes safe from falling tree sections
Remember that merely resorting to the use of a tree crane is not enough. It is essential to hire proven pros for tree removal with crane.
Clyde Hill Low Impact Tree Removal with a Crane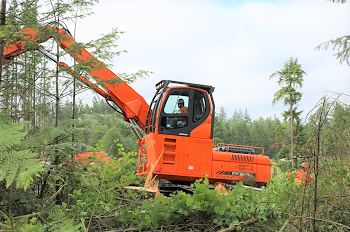 Our company has technicians with vast experience and proven skills at tree removal with crane. The property owners who hire us can relax, knowing that the tree removal with crane from their Clyde Hill property will be done expertly, seamlessly.
Safety of your property and our employees is paramount during the low-impact tree removal with crane from your yard.  Trust us to do the job with:               
Well-trained crane tree removal crew
State-of-the-art tree crane
Full diligence and attention to detail
With a top priority to customer satisfaction
You can also trust us for offering our high-quality services at an affordable crane tree removal cost.
Call P'n'D Logging and Tree Service at (425) 569-0900 for tree removal with crane from your Clyde Hill property.