Crane Tree Removal Services for Auburn Residents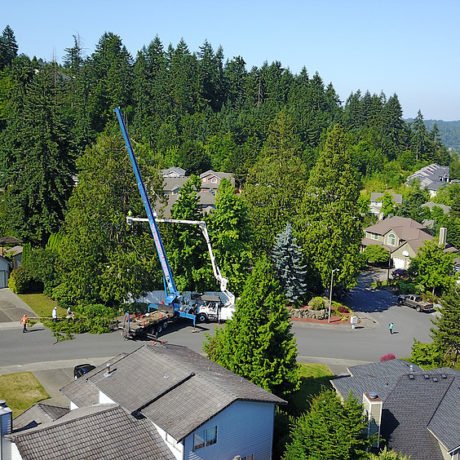 While our experience in this business dates back to 1977 using the traditional methods, we are proud of our subsequent increased capabilities using crane tree removal for Auburn residents.
As a homeowner, you no longer have to deal with ruts in your yard, and damage to your landscape. Our highly skilled crew is fully equipped with latest tools, equipment and advanced technologies that provide benefits such as:
Ability to safely lift treesfrom a yard into a safe work zone
Capability to maneuver equipment in most any place
Ability to work in difficult to reach or tight spaces
Generally as cost-effective as traditional methods or even better
Greater safety than using traditional methods
We encourage you to call for a free written estimate!
A Tree Crane Can Keep your Auburn Landscaping Unharmed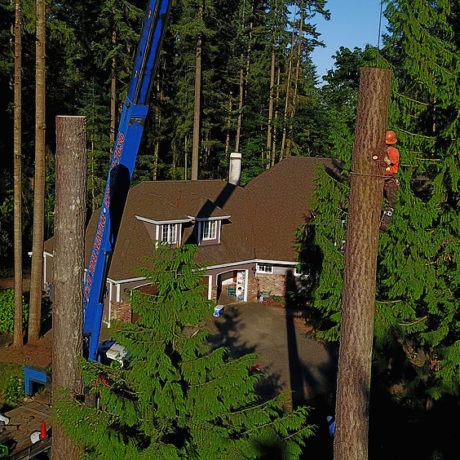 When our professional operator and crew arrive with a tree crane, brush chipper and log truck in Auburn, you no longer have to subject your beautifully landscaped property to damage or severe impact on your yard.
We provide expert care and workmanship at every stage, even in hard-to-reach locations such as a steep bank with a retaining wall, a confined space near a septic system, or a yard with walls or fencing.
We specialize in safe lifting of large or small trees in close quarters into a safety work zone that provides tremendous benefits over traditional methods:
Virtually avoids harm or damage to your landscape
Gets the job done in a fraction of the time – hours vs. days
Ability to remove large tree sections in pieces to minimize disruption
Careful and controlled safety procedures for crew and surroundings
In general, more cost effective than using traditional methods
Call us today to request a review of services required, and to schedule a free written estimate.
Auburn Low Impact Tree Removal with a Crane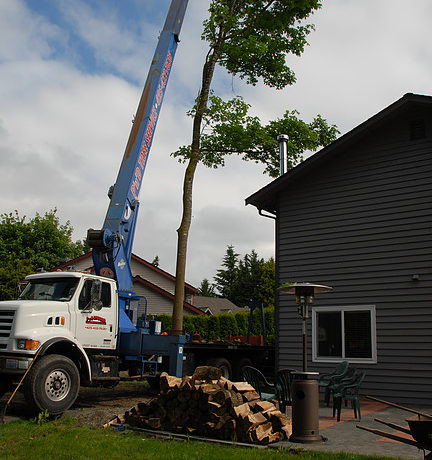 We specialize in low impact tree removal with a crane for Auburn residents and the greater Puget Sound.
Whether your needs are a result of wind or storm damage, or an unsafe condition posing a serious risk to your home or surrounding area, with the use of specialized equipment, tools and advanced techniques by a skilled operator and crew, we can extricate both large and small trees from a confined space into a safe work zone with little to no damage to your property.
In addition to greater safety, lower cost, improved efficiency and minimal or no damage to your landscape or surrounding structures, these are a few reasons we are chosen for high risk services:
Time-honored reputation as the best service in the Northweste
Family-owned and operated
Free detailed written estimates
Highly competent and skilled operators and crew
Fair and competitive prices
Strict adherence to all industry safety rules and regulations
Ability to work in all types of environments and conditions
Licensed, bonded and insured
Call P and D logging and Tree Service to experience all of the benefits of our effective removal methods! 425-569-0900