Tree Trimming for Home & Business Property in Fife
When you call us for tree trimming for your home or business property in Fife, you will be rewarded with added beauty to your landscape.
We have years of experience mastering the craft to help sustain overall health, retain a natural appearance, and stimulate growth.
While it differs from pruning, each procedure is crucial for maintaining their structure and health, and protecting your investment in time and money over the years.
These are a few important considerations that explain why this service is so important:
To avoid colonization of pests and insects
To increase their strength and provide necessary trunk support
To enhance their growth
To avoid risk of dead limb damage to nearby structures or people
To develop pleasing aesthetics
To increase penetration of sunlight
Call us today to learn how we can increase the integrity of the health of your trees and improve your property value!
Tree Trimming Service in Fife – We Do Large Trees Too!
We provide professional tree trimming service in Fife to help increase their aesthetics, strength and growth.
Working with experts that are trained to examine and evaluate the health and aesthetics of trees of any size, our trained professionals know how to skillfully perform the task of tree trimming using appropriate methods to ensure its health and restore its shape by:
Removing problematic branches that extend over structures
Removing dangerous and heavy low-hanging limbs
Trimming out dead or dying branches to encourage new growth
Removing limbs that are a threat to utility lines
Removing branches that obstruct your view
We have years of experience in safe practices and selective removal of unsafe branches and limbs. And at completion, we provide immaculate debris cleanup.
Call today for a free written and detailed estimate.
Trimming Trees to Prevent Problems for Fife Residents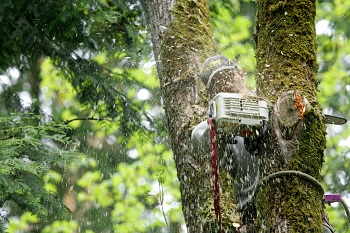 The recommendation by the Arbor Day Foundation for trimming trees is once annually during the dormant season that can vary depending on the species.
However, there are circumstances that may prompt quick response for trimming trees to prevent problems for Fife residents, such as, but not limited to:
Visibility obstruction for vehicles and pedestrians
Storm damage causing limbs to lean or fall onto utility lines or structures
Growth that threatens properties or homes
Our work is conducted to the highest standards using refined methods that will save you time and money over our competitors. We specialize in residential work using latest equipment and tools by skilled workers that have extensive knowledge and expertise.
Call P and D Logging and Tree Service to request a free written estimate. One call does it all! 425-569-0900