Tree Trimming for Home & Business Property in Des Moines
Are you wondering about the benefits of tree trimming for the trees on your Des Moines, WA property? Whether you own a home or have a large business property, P'n'D Logging and Tree Service is here to help.
Tree trimming is an essential part of our tree service company, mostly because we know that an ounce of prevention is worth a pound of cure. Imagine your trees getting overgrown. What will happen when:
Bugs start to infect the tree?
A big storm hits?
You are unable to fertilize and water the tree?
The tree will start to get diseased and can even die off if too much of it is damaged. That's why we offer tree trimming that is both preventative and effective.
This way, your tree is pruned to the right height and width so you don't have to worry about things going wrong.
Tree Trimming Service in Des Moines – We Do Large Trees Too!
The crown (top) of the tree is one of the most important parts of a tree. An overgrown tree can mean less air flow and less transference of carbon dioxide to oxygen.
It also means less sun to all of the leaves! That's why our tree trimming service in Des Moines is ideal for property owners who have:
Large trees
Dense trees
Trees close to power lines or buildings
Our arborists have been highly trained in tree trimming service, and they know how to trim a tree without killing it. They can also provide other tree service, like fertilizing and even land clearing. Just let us know what level of tree service you want, and which trees require tree trimming. We'll get to work!
Trimming Trees to Prevent Problems for Des Moines Residents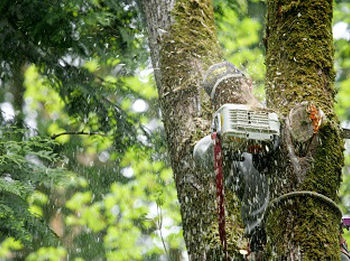 How often have you had to call in a tree trimming service because a branch broke after a storm or because you realized that your tree was dying?
This happens all the time, which is why we recommend trimming trees as regular seasonal maintenance for our Des Moines clients. Trimming trees:
Lets more sun into the middle branches
Provides more access to air throughout the tree
Prevents the tree from getting too heavy
That means you'll have a healthy tree all year-round. Trimming trees is also a lot more cost-effective than emergency tree removal or tree cleanup, which is why so many Des Moines residents call us to enlist our tree pruning service.
P'n'D Logging and Tree Service is here to serve the Des Moines area with tree trimming and more. Call us at (425) 800-0560 to schedule a visit.