Tree Trimming for Home & Business Property in Bonney Lake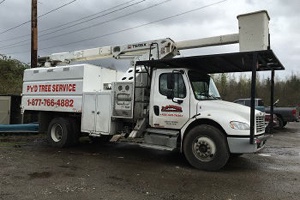 P'n'D Logging and Tree Service is one of the leading sources for tree trimming service in the Bonney Lake, WA area. Home and business owners who want the trees in their yard to pruned expertly know that all they have to do is to give us a call.
Our technicians are experienced at trimming trees of all species and sizes. They can come in to provide tree trimming service to meet diverse purposes. The tree pruning work done by us includes:
Dead wooding
Tree shaping
Crown thinning
Hazardous limb removal
By trimming trees to remove their decayed, diseased, overgrown and overcrowding branches, we improve the tree aesthetics, health, and longevity. We can also prune fruit trees to boost their harvest.
Look no further than us or tree trimming service in the Bonney Lake area if you want the best possible tree maintenance and care to enhance your landscape.
Tree Trimming Service in Bonney Lake – We Do Large Trees Too!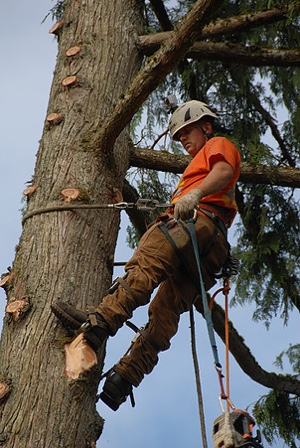 It is better to hire professionals for trimming trees in your yard, even if the tree is not an extremely tall one. Making any incorrect cuts can cause lasting damage to the tree. Meanwhile, the risk of falling from the tree is always there if a novice goes about snipping off its branches.
The fact that you have come here in search of a tree trimming service provider is proof that you are an aware and judicious property owner. We assure you of the top-notch tree pruning service that you need and deserve.
Our technicians deliver the finest tree trimming service in the Bonney Lake area no matter how tall the trees:
Work attentively
Use proper climbing and protective gear
Work with state-of-the-art tree pruning tools
Work with local city requirements
Use crane trucks for larger trees
Provide excellent customer value
Trimming Trees to Prevent Problems for Bonney Lake Residents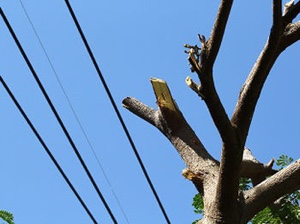 Trees are a wonderful asset, but only when well-maintained. Wildly growing trees can present quite a few problems, such as: /p>
Damage overhead cables
Block outside view from windows of your building
Drop leaves and debris in the neighboring yard
Hinder vehicular or pedestrian traffic outside the property
Spoil the curb appeal
Call us for trimming trees in your Bonney Lake property to keep away from such issues. We can be hired for trimming trees on a regular basis or for one-time tree trimming service.
Is it time for trimming trees on your Bonney lake property? Then, it is time to contact P'n'D Logging and Tree Service! Call (425) 569-0900.