Tree Removal in Holmes – Downed, Dead or Dangerous Trees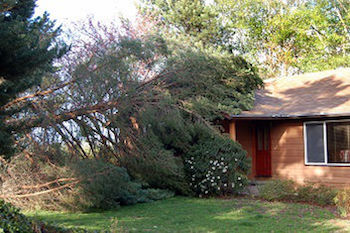 We use the latest equipment and methods for tree removals.
Our equipment operated by highly-skilled professionals is the most powerful for safe and efficient tree removal service in Holmes at cost-effective prices.
Hiring a professional tree removal company is essential for dead, downed, and dangerous trees to avoid damage to property, utility lines, humans, buildings, vehicles, and pets. If you are concerned about trees that appear healthy but are leaning, call for an assessment by our certified arborist because they may pose a safety risk.
Our certified arborist and professional crew can safely remove trees for all types of conditions such as:
Storm damage
Large trunk cracks or splits
Downed, dead, or dying trees
Decayed trunks and root rot
Pest infestations and diseases
Call today to schedule a free consultation and free written estimate.
Tree Removal Service for Home & Business Property in Holmes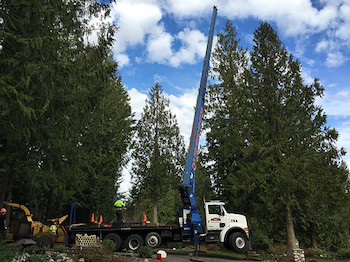 We are the best in the Pacific Northwest for safe tree removal for homes and business properties.
There are three principal reasons to call us to remove trees rather than attempt a do-it-yourself project: safety, avoidance of further damage, and quicker claims reimbursement because of our insurance claims assistance.
We are capable of performing safe tree removal service in Holmes for trees of all sizes, heights, and ages, and in confined areas, between dwellings, near septic systems, and tight spaces using the following equipment and techniques:
Cranes
Bucket trucks
Low-impact cranes
Skilled climbing technicians
Our crew provides related debris cleanup from the area.
Call a proven leader you can trust for fast, affordable, and friendly tree removal service.
Why Do Holmes Residents Choose Our Tree Removal Company?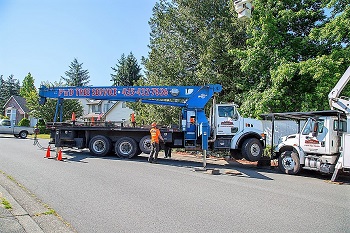 We are proponents of saving trees, but when residents in Holmes need to have trees safely removed, they turn to our tree removal company for high-quality services.
Our professional team of highly-skilled equipment operators using state-of-the-art equipment and certified arborists know how to get the job done right!
We handle standard removals using safe tree felling techniques. We use a bucket crane or low-impact crane for complicated extrications to complete the job in a safe and timely manner.
These are reasons why residents throughout the area choose us for tree removals:
Our excellent safety record
Licensed, bonded, and insured for your protection
Time and money savings
We promote tree health
State-of-the-art equipment & specialty tools
Customer service excellence
No hidden fees
Highly skilled crews
Family-owned and operated
Call P and D Logging and Tree Service for a free written estimate with upfront pricing. One call does it all! 425-569-0900