Tree Logging in Black Diamond – Free Estimates on All Jobs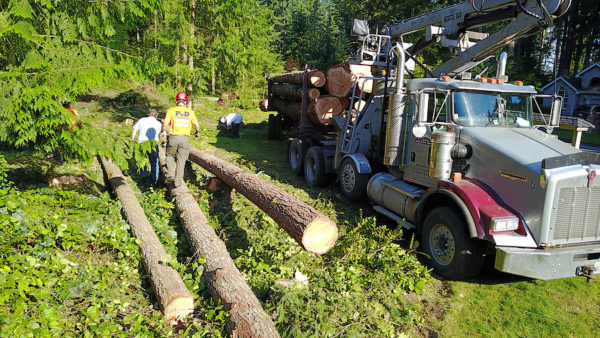 We have state-of-the-art tree logging equipment for clearing residential and commercial properties in Black Diamond.
As a family-owned and operated business since 1977, we have years of experience, a fleet of specialized equipment, and the expertise as a "hands on" contracting service to meet your needs while exercising responsible management practices to maintain the soil and water quality.
We provide free written and detailed estimates for all on-site services that may include:
Tree and land clearing
Excavation site work
Grading and leveling
Vegetation and underbrush removal
Wood chipping
Stump cutting and grinding
Removal of boulders, structural concrete and stones
Storm damage cleanup
Forest thinning
We invite you to call us for a consultation and assessment of your needs. One call does it all!
Tree Clearing for Black Diamond Residential & Commercial Property
Whether you require selective harvesting, thinning, or tree clearing services that harvest all but a few remaining trees for Black Diamond residential or commercial property, call for the best in the Northwest!
We are a full-service contracting company providing residential and commercial property owners with safe and expert removals that leave your property in top condition whether it involves storm cleanup of just a few trees, or a new construction project involving many acres.
Call us for an assessment and a free detailed written estimate of overall costs for your project needs, such as:
Storm damage cleanup
Landscape preparation
Restoration of a park
New construction or renovation
Easements for utility companies
Control of erosion
Groundwork preparation for parking lots
Wildlife habitat improvements
Preparation for driveway or new road construction
Thinning
Improved panoramic visibility
Preparation for pool or garden pond installation
We are dedicated professionals that place a high value on customer service and outstanding results for projects on a small or large scale.
Call today to take advantage of our expert services!
Black Diamond Land Clearing – Renovations or New Construction

We have the experience, expertise and professional skills to provide Black Diamond land clearing services for renovations or new construction, regardless of the project size.
Our professional operators and highly skilled crew are equipped with cutting-edge and well-maintained heavy-duty equipment for effective removal of trees, vegetation, brush and other woody plants to effectively complete projects such as, but not limited to:
Landscape enhancements or renovations
New construction, renovations or expansions
Clearing for utility and power line installations or maintenance
Preparation for driveway installation
Fire prevention
Creating walking, biking or recreational vehicle trails
Preparation for swimming pool installation
Call P and D Logging and Tree Service for cost-effective and environmentally friendly methods that get the project done on schedule. 425-569-0900