Do You Need A Certified Tree Arborist to Remove a Tree in Ravensdale?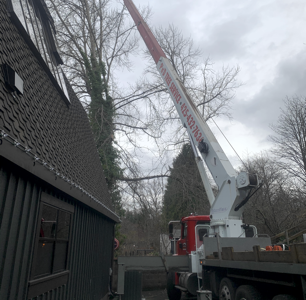 If you have a diseased or insect-infested tree and need a "tree arborist near me", call us!
We are a leading tree removal service for the Greater Puget Sound area, owned and operated since 1977 providing residential and commercial tree removals and a broad range of related operations, as well as tree arborists with expert skills and knowledge for analyzing hazardous tree conditions.
We can quickly dispatch a knowledgeable tree arborist, tree surgeon, and tree specialists with years of field experience to perform necessary tasks with superior results.
Our tree arborist serving Ravensdale is an expert in determining if, when, and how to safely remove a tree that exhibits tree conditions such as:
Disease or pest-infestations
Endangerment to persons or adjoining property
A hazardous utility situation
Dead or old age symptoms
We make it convenient for you to schedule a free written estimate on this site based on a qualified determination by a knowledgeable tree arborist! Or call today.
Tree Doctors Use a Crane to Remove Trees in Ravensdale!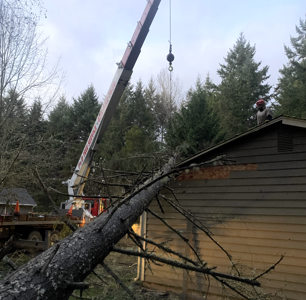 We have on-staff tree doctors, or tree surgeons trained to conduct tree condition diagnoses and risk assessments.
Selecting the right tree doctors for tree removal service in Ravensdale is vitally important. In addition to proper diagnosis, they are highly skilled crane operators with years of experience in safe tree removal methods using complex rigging for moving trees into safe work zones that provide efficient removals at a lower cost than the use of traditional methods.
With safety as our highest priority, our tree doctors and tree specialists provide many benefits when using a crane to remove trees, such as:
Ability to reach tight or difficult spaces
Minimal to no landscape damage
Completion in hours vs. days
Significant cost efficiencies over traditional methods
Call our office today with questions about "tree removal services near me". We are known as the best in the Pacific Northwest!




Why Choose Our Tree Specialists?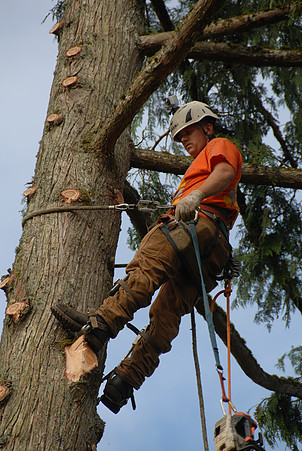 We have expert tree specialists serving Ravensdale with professional experience in tree care, and the ability to diagnose the condition and treatment of trees.
When choosing our tree specialists with expert knowledge in the Ravensdale area, you receive superior workmanship and highly skilled operators with experience in tree services for residential, commercial, municipal, and government agencies that have gained us positive reviews on our website, as well as sites such as Google, Yelp and others.
These are a few additional reasons to choose our tree specialists:
Accurate tree diagnoses & risk assessments
Free detailed written estimates
Licensed, bonded, and insured
Safety is our highest priority
Dedication to customer service
Competitive tree doctor rates
Call P and D Logging and Tree Service today, or use the convenient form on our website to request a free written estimate. 425-432-7636