Stump Removal in Redondo – Fast & Safe for the Environment
Tree stump removal is one of the services we provide to residential and commercial property owners in the Redondo community. P'n'D Logging and Tree Service has been family owned and operated since 1977.
Although there are other methods Redondo businesses or homeowners may consider, keep in mind the DIY options may take years to work and often include some sort of chemical treatments. Unfortunately, these chemicals can be bad for the environment as well as your lawn or other landscaping elements.
A quicker and safer option for stump removal on Redondo property is our stump grinding service, as we:
Have affordable pricing for tree stump removal
Use non-chemical methods that work quickly
Provide stump grinding services that are safe
Tree Stump Removal for Redondo Home & Business Property
There are several good reasons for tree stump removal. The first one is obvious – it is a landscaping element that is unsightly and simply an obstacle when it comes to mowing. This is the visual reason for removing a stump. However, another concern that Redondo property owners should consider is the potential for accidents due to a tripping hazard.
Because stump grinding services are the least abrasive and quickest way to remove a stump, you will benefit the most because:
The landscaping eyesore will be gone
Mowing and lawn care will be easier
Accidents due to tripping will be eliminated
Property liability issues will be reduced
Our tree stump removal services are a reliable and dependable way to take care of your unwanted stump for good!
Why Call Us for Stump Grinding Service in Redondo?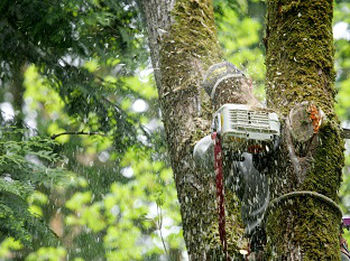 If you are still debating the benefits of a stump grinding service for your residential or commercial property in Redondo, there is another very good reason to call in the professionals! A dead and decaying stump or even if it is still sending up shoots can be a hidden problem. This environment is the ideal breeding place for insects and other pests.
These unwanted visitors can cause damage to your lawn as well as nearby flower beds or shrubs. And if that's not bad enough, they can invade your home or office.Some of the pests that are typically found in tree stumps include:
Termites & other wood-boring insects
Ants and carpenter ants
Beetles
Mice
Call P'n'D Logging and Tree Service for stump grinding services in Redondo. We'll have your tree stump removal done in no time! 425-569-0900