Stump Removal in Puyallup – Fast & Safe for the Environment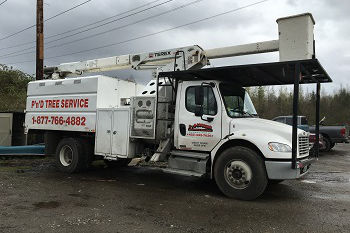 Chipping away at that big, dried-out tree stump in the yard is no fun way of spending your day off!
Why waste your leisure time and break your back when P'n'D Logging and Tree Service is here to take care of all your tree stump removal needs in Puyallup, WA?
Do not hesitate to give us a call and schedule stump grinding service if there are any tree stumps on your property that you need to be removed or ground out to:
Do away with an eyesore
Prevent accidents
Level the earth to allow landscaping or any other use
You can count on us to do tree stump removal from your Puyallup property in a very fast and environmentally safe manner.
So, what are you waiting for? Contact us today for a free written estimate on tree stump removal cost.
Tree Stump Removal for Puyallup Home & Business Property
We have invested in powerful stump grinders of different sizes for breaking down the huge tree stubs and their surface roots. With their high-speed, sharp-teethed disk, these machines grind the stump and roots into small chips within minutes.
With our tree stump removal service in Puyallup, you will have the stump area be smoothened out before you know it.
Our stump grinding service is available for both home and business property owners.
Regardless of the type of property we work in or the size of stump we come in to remove, we make sure that the job is done:
Along a well-organized, hassle-free process
With no damage to the lawn or driveway or yard
Without much disturbance to the client
At very competitive stump grinding rates
Why Call Us for Stump Grinding Service in Puyallup?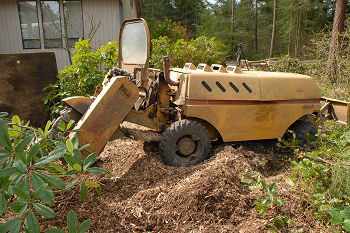 Assurance of seamless stump grinding service at the best price is a good reason why you should call us whenever there is an unsightly tree stump on your property that has to be removed or razed to the ground.
However, that is not the only thing that makes our tree company a good choice for stump grinding service in Puyallup.
We are a family owned and operated company that is licensed, bonded and insured for handling tree stump removal jobs in this community.
Hiring us means that you are:
Treated courteously
Fully protected throughout the job
Totally satisfied with the work done
P'n'D Logging and Tree Service is the name to rely on for stump grinding service in Puyallup. Call (425) 569-0900.