Emergency Tree Removal in Puyallup – Available 24/7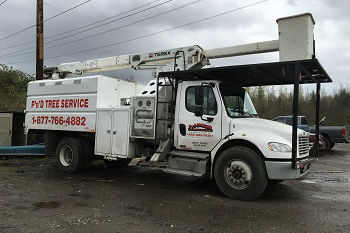 We have an experienced crew that specializes in emergency tree removal for residential, commercial, and municipal sites as well as construction companies and builders.
While there is an inherent danger associated with emergency extractions, we have experience in working in all types of environments and conditions requiring our services, such as:
Winter storms with heavy ice and snow
Strong winds and driving rain
Lightning strikes
Construction mitigation
Weakened or dead trees from effects of prolonged drought
Diseased or pest-infested trees
With our state-of-the-art equipment and the implementation of safe practices, we offer the finest 24/7 emergency tree removals in Puyallup.  Call us today!
Unsafe or Dangerous Tree Limb Removal in Puyallup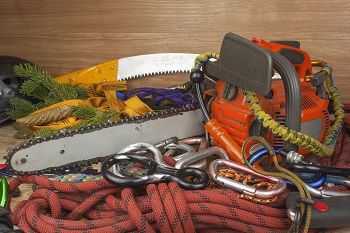 Having low overhanging limbs can pose a potential safety liability.
As a tree care service strongly committed to saving trees, we are qualified to conduct an assessment to determine if a tree limb removal can achieve the results required to avoid:
Potential risk to you or the public
Damage to private or adjoining properties
Dangerous impediments or obstruction of streets, walkways and driveways
Risk to buildings, structures or rooftops
Interference with utilities
With the effects of the weight, its distribution, and the position of overhanging limbs, we strongly advise against do-it-yourself efforts because tree limb removals can become extremely dangerous for a novice.
Whether you require complete removal of a mature tree or overhanging limbs in Puyallup, call for our professional crew that is well-equipped and experienced in safe practices.
Emergency Tree Removal Service for Puyallup Residents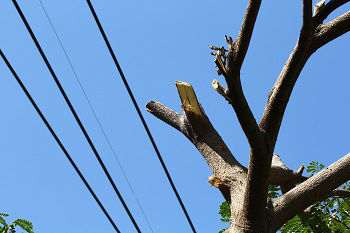 Losing a tree as a result of unexpected circumstances for property homeowners in Puyallup can be a devastating experience.
We understand the importance of the beauty that your trees bring to your landscape, and their significant value to your property.
We specialize in emergency tree removal service of all kinds, including the use of climbing equipment, advanced tree-felling procedures, and our low-impact crane for extractions from difficult or hard-to-reach areas with little or no disruption to property.
Known as the best in the Northwest, these are additional reasons to call us:
Highly-skilled experts with an excellent safety record
Free written and detailed estimates
Family-owned and operated business
Licensed, bonded and insured
Use of advanced technologies and methods
State-of-the-art equipment and tools
Availability of insurance claims assistance
Competitive rates
Rapid crew mobilization for 24/7 emergency response
When you require complete removal, you can count on us for services and solutions second to none!  Call P and D Logging and Tree Service for safe, high-risk tree extraction services.  425-569-0900