Emergency Tree Removal in Lakewood – Available 24/7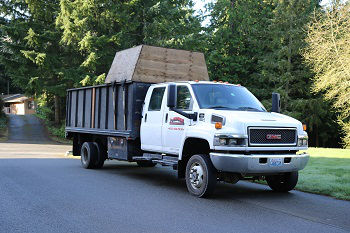 When you have a hazardous condition that requires removing high-risk trees from your residential or commercial property, or from a municipality or construction zone in Lakewood, call for the company known as the best in the Northwest!
No matter how severe or potentially dangerous, nothing stands in the way of our experts that have years of experience working in all types of environments and conditions providing safe emergency tree removal for conditions relating to:
Severe winter storms with heavy ice and snow
Lightning strikes
Strong winds and heavy driving rain
Prolonged drought leaving trees weakened or dead
Pest infestations and diseases
Construction mitigation
We have state-of-the-art equipment and tools, and a crew experienced in safe practices available for 24/7 emergency tree removal.  Call for the best!
Unsafe or Dangerous Tree Limb Removal in Lakewood
As a tree service company that is continually on the cutting edge of tree service industry advancements, we are strongly committed to saving trees.
In situations where a complete removal is not warranted, but there is a potential safety liability relating to an unsafe or dangerous overhanging limb, we have a highly-skilled crew to conduct a tree limb removal as a reasonable alternative to avoid:
Interference with utilities
Potential damage to private or adjoining property
Impediments or obstruction of streets, sidewalks or driveways
Damage to buildings or structures
If you are uncertain about your personal assessment of the risk, call us for an assessment and evaluation of the conditions.  We can help you make an informed decision.
With years of experience in safe practices as tree limb removal experts dating back to 1977, we are able to provide selective removal of unsafe or overhanging limbs in Lakewood.  Call us today!
Emergency Tree Removal Service for Lakewood Residents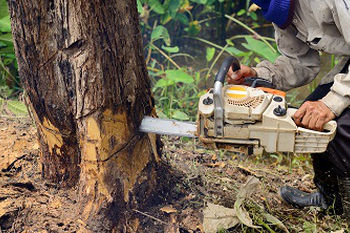 We are the experts in low impact emergency tree removal service for residents of Lakewood.
If you have trees that have suffered from storm damage, or other conditions requiring selective extraction, we have experience in the use of advanced technologies, procedures and equipment for working in all types of environmental conditions.
In instances where large trees and heavy limbs are involved, we combine the skills of our professional crew with our low impact crane to hoist a tree from a difficult or hard-to-reach place into a safety zone where it can be dismantled in a matter of hours and at a lower rate than other methods.
If you want the best in the Northwest, call us for highly-trained tree professionals that offer:
Advanced methods, techniques, equipment and tools
A strong safety record
Rapid 24/7 emergency response
Insurance claims assistance
Competitive rates
Caring services of a family-owned and operated business
A professional company that is licensed, bonded and insured
Call P and D Logging and Tree Service at 425-569-0900 for a free written and detailed estimate.