Emergency Tree Removal in Des Moines – Available 24/7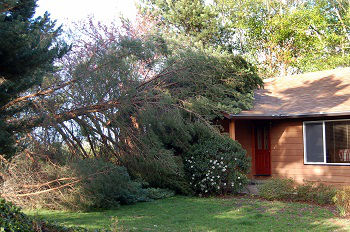 We are experienced contractors in emergency tree removal for home and business properties in the Des Moines area.
Since this work involves hazardous risks, we encourage home and business owners to call on us for a highly-experienced crew to safely remove a tree that poses a risk to your home, business, or the surrounding area.
Our crew has years of experience in emergency tree removal in all types of conditions and environments using advanced equipment and industry safe practices to ensure that adjoining properties or structures are not damaged.
We are also available for emergency 24/7 services for conditions that may include:
Uprooted trees following strong wind, heavy rain, snow or a combination
Weakened or dead trees resulting from prolonged drought
Lightning strikes
Diseases and pest infestations
Excessive weight from ice and wet snow
Hazardous tree conditions on a construction site
Large low-hanging unstable limbs suspended over building structures, walls and fences
Call us anytime day or night for 24/7 emergency services by a professional crew.
Unsafe or Dangerous Tree Limb Removal in Des Moines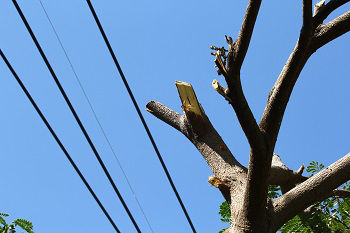 Our area is no stranger to natural disasters of many types, including storms, drought and wildfires that may result in dangerous branches or large overhanging limbs that pose a risk to your property or that of others in Des Moines.
As a professional tree service company, our first objective always is to save a tree by restoring it to a healthy, safe condition with selective tree limb removal services.
However, because damaged or unhealthy trees are dangerous and unpredictable, we encourage you to call us to conduct an assessment of trees or limbs that may pose a significant liability:
Dead, weakened or dying limbs
Insect or disease infestation, decay or fungal attack
Damaged limbs from severe storms, drought or excessive moisture
Overhanging limbs that interfere with building structures and roofs
Obstruction of public streets, sidewalks or a driveway
We are highly-qualified to conduct an assessment, and any follow-on tree or tree limb removal services required to eliminate further risk and liability.
Call us today to take remedial action as required.
Emergency Tree Removal Service for Des Moines Residents
As a professional tree care service, we understand that nature is not predictable, and that storm damage or other causes for emergency tree removal services for Des Moines residents can occur during non-standard working hours at night or over a weekend.
Known as the best in the Northwest for emergency tree removal services utilizing a broad range of methods for safe extraction, we can safely remove an uprooted tree that has sustained severe storm damage, or one that has serious trunk damage as a result of old-age and is leaning in a hazardous direction from vertical.
These are a few of our proven methods:
Expert climbers equipped with climbing, rigging and cutting equipment
Use of our low-impact crane without damage to property
Tree-felling from ground level either in total or in sections
We have a superior safety record, and are licensed, bonded and insured.
Call P and D Logging and Tree Services to get the job done by experienced and highly-skilled professionals serving the Northwest!  425-569-0900