Emergency Tree Removal in Black Diamond – Available 24/7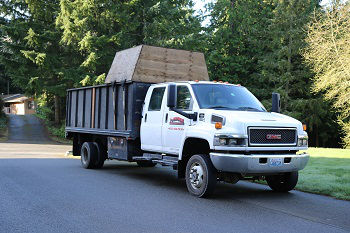 When you have one or more trees that pose a safety hazard to you, your property or the public, call us for emergency tree removal.
We have an experienced crew that is accustomed to working in all types of environments and conditions to remove or extract unsafe trees for residential, commercial and municipal clients in the Black Diamond surrounding area.
Our successful practices for safe and efficient emergency tree removal allow us to offer the finest possible 24/7 service as a result of:
Severe winds and heavy driving rain
Lightning strikes
Winter storms with heavy ice and snow
Seasonal drought leaving trees in a weakened or dead condition
Prolonged pest infestations and disease
Potentially hazardous conditions on construction sites
Call for emergency tree removal service from the best in the Northwest!
Unsafe or Dangerous Tree Limb Removal in Black Diamond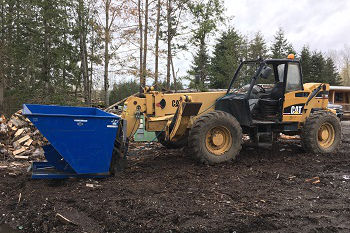 From time to time even well-cared for trees can eventually become a significant safety liability.
When circumstances require unsafe or dangerous tree limb removal in Black Diamond, our highly-skilled crew can perform the job in a safe manner.
If you are uncertain as to whether your needs call for emergency tree removal or tree limb removal, call us for an assessment to avoid potential risk of an entire tree landing on a structure.  We can make a recommendation based on existing conditions such as:
Weak, dead or decayed limbs that pose an unacceptable risk
A tree that is insect-infested or diseased
Interference with utilities or other structures
Damage from storm, wind or excessive moisture
Obstruction of a driveway, sidewalk or public street
We are knowledgeable in determining the health and safety of trees, and while we look to removal as a last resort, when it is deemed necessary we can perform the job safely and efficiently to avoid further risk of damage to your property.
Call today for an assessment and a free written estimate!
Emergency Tree Removal Service for Black Diamond Residents
We understand how devastating it is for property owners to experience the loss of a valuable investment in their trees as a result of seasonal storm or wind damage or other types of unexpected incidents.
In the event that you require emergency tree removal service in the Black Diamond area, we can provide services and solutions second to none to ensure safe removal or extraction.
Depending on size, location and potential safety hazards, we can draw from a variety of methods for emergency tree removal to ensure that your property will not be damaged.
Using the latest technology in concert with the skills of our professional crew, we can extract a tree from a confined area with our low-impact crane and place the tree into a safety zone for dismantling.
These are additional reasons to choose us for emergency tree removal:
Highly-skilled climbing technicians
A professional crew experienced in managing state-of-the-art equipment
Licensed, bonded and insured
Family-owned and operated business
Quick response 24/7 emergency services
Strong safety record
Competitive rates
Free detailed and written estimates
Call P and D Logging and Tree Service for removing damaged trees.  We specialize in high-risk tree service.  425-569-0900