Crane Tree Removal Services for Thorp Residents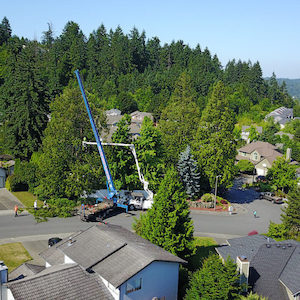 We are a family-owned and operated organization providing land clearing and crane tree removal services in the Greater Puget Sound area. If you own a business or residential property in Thorp, WA, in need of crane tree removal solutions, you have come to the right place. Our team is highly trained and experienced in effective crane tree removal techniques.
These are some of the reasons clients in Thorp choose us for crane tree removal operations:
Free written estimates provided
Accredited with the Better Business Bureau
Operating since 1977
Dedicated to customer satisfaction
Call us today at (425) 569-0900 for all you need to know about crane tree removal. We look forward to making your property safer while leaving your landscape in good condition.
A Tree Crane Can Keep Your Thorp Landscaping Unharmed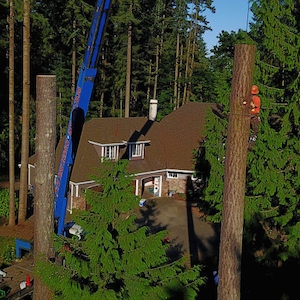 A common misconception that property owners have is that tree cranes are damaging to your property. At P'n'D Logging and Tree service, we assure our clients this is not the case. Not only are tree crane techniques often the most effective extraction method, but we also take precautions to ensure the surrounding landscape is unharmed. When you choose us for tree crane removal, our team is dedicated to adhering to all equipment and gear safety standards.
We are a recommended choice for tree crane removal in Thorp that leaves your landscape unharmed. These are some of the remarks past clients had to say about our service:
"Professional attention to detail."
"Friendly, responsive, and great to work with."
"Worked safely with courteous regard to my property."
"They cleaned up afterward, and our yard was better for it."
"They came in like a wrecking ball without damaging anything."
Please visit our website to read more about how property owners have reviewed our land clearing and tree crane services.
Thorp Low Impact Tree Removal with a Crane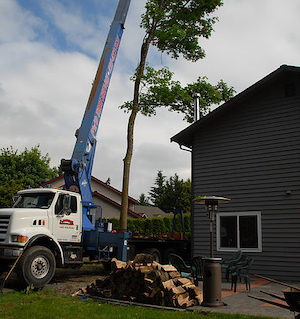 When you decide to call us for tree removal with a crane in Thorp, the procedure is low impact and time effective. We use one of the best cranes for tree work, safely moving it to a secure work zone. Tree removal with a crane allows trees to be extracted in sections, minimizing disturbance to surrounding property.
Besides low-impact tree removal with a crane, we provide:
Site excavation and development
Tree felling and stump grinding
Removing harmful species
Custom firewood orders
If you are looking for low-impact crane tree services that leave your landscape unharmed, call P'n'D Logging and Tree Service at (425) 569-0900.