Crane Tree Removal Services for Teanaway Residents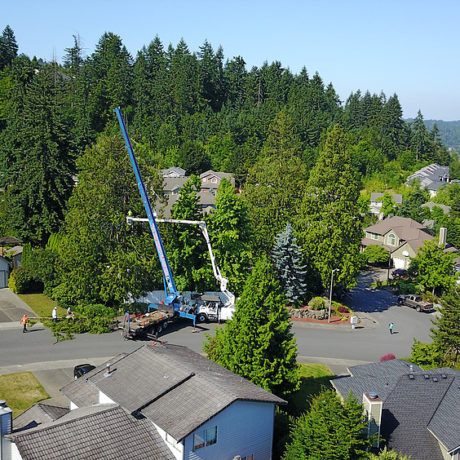 Are you looking for crane tree removal experts that complete the job safely and efficiently? We are a reliable choice. We have been in business since 1977, and we only work with the best tree professionals to perform crane tree removal operations.
If you are unsure whether you require tree removal with a crane for your property, please don't hesitate to contact us.
These are some of the scenarios you could require crane tree removal for in Teanaway, WA:
Trees in close proximity to infrastructure
Trees impacting cables and electricity lines
Large trees restricted by retaining walls
Where extraction from the ground is not possible or safe
What does crane tree removal cost in Teanaway? Call us today at (425) 569-0900 if you would like a free written estimate for crane tree service.
A Tree Crane Can Keep Your Teanaway Landscaping Unharmed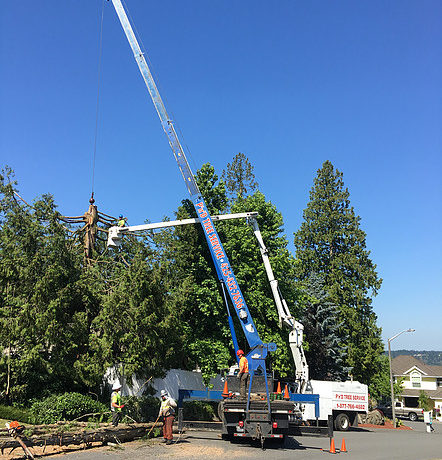 Tree crane extraction is an advanced technique that removes unwanted or dangerous trees safely and effectively. Tree crane methods involve removing the tree in sections and safely relocating it to a workspace.
Often, tree crane removal is more effective than traditional tree felling as operations can be strategically planned out by knowledgeable experts. We use the best cranes for tree work at P and D to ensure minimal impact to the surrounding landscape.
The tree crane techniques we offer in Teanaway allow us to ensure:
Timely execution of jobs
Safe removal from restricted locations
Improved cost-efficiency
Total tree extraction
Completing the job right the first time
Teanaway Low Impact Tree Removal with a Crane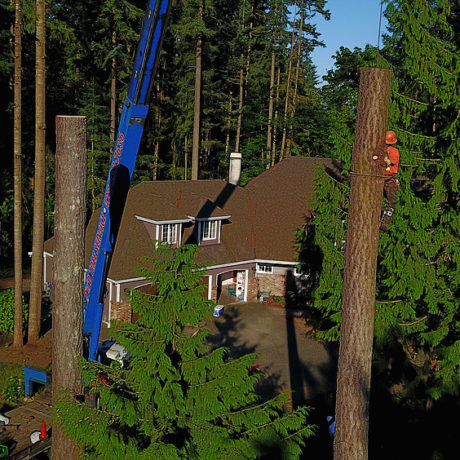 The technology and techniques we use at P & D allow our team to execute low-impact tree removal with a crane for all kinds of trees, no matter the condition or environment. Our years of experience in the industry make us a reliable choice for tree removal with a crane and other landscaping jobs.
We encourage you to take a look at our website, where our past clients testify to our commitment to quality service.
In addition to tree removal with a crane in Teanaway, we also provide the following services that leave your landscape unharmed:
Brush and view clearing
Emergency removal of fallen trees
Excavation and site development
Stump grinding and root removal
Soil grading and leveling
Call us today at (425) 569-0900 if you have any questions about the logging and crane tree services we offer for commercial, residential, and municipal properties.