Crane Tree Removal Services for Roslyn Residents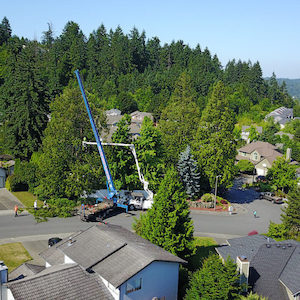 Crane tree removal for Rosyln residents is much more efficient and cost-effective than using traditional tree-felling methods.
Tree removal with a crane happens quickly after setting the crane in place. Each member of our expert crew knows the procedure and works as a team to safely remove trees in all types of weather conditions.
Working with a tree crane is the best way to remove dead, decaying, or diseased trees. Using traditional tree removal procedures is labor-intense and time-consuming, leaving a damaged landscape with an intense impact on the surroundings.Our crane tree removals accomplish in hours what takes days using traditional methods.
Call us for crane tree removal as the best option for:
Tight quarter tree removal
Tree extraction between dwellings
Tree removal from slopes, steep hillsides, or inclines
Landscape preservation
Tree removal from a home or landscape to a safe work zone
Call for a free written estimate for crane tree removal. One call does it all!
A Tree Crane Can Keep Your Roslyn Landscaping Unharmed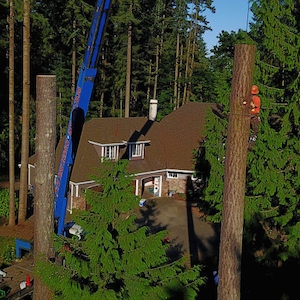 Your Roslyn landscape will remain free of deep ruts and costly repairs when our tree crane operator and crew complete your tree removal project!
No matter how difficult the conditions, we employ the best crane for tree work! Our tree crane operator can vertically lift and remove trees or sections of trees over obstacles and carefully set them into a safe dismantling work zone.
We have worked in all types of conditions to conduct tree crane services:
Difficult storm damage tree removal with a crane
Removal of diseased or dying trees
Locations near septic systems, nearby dwellings, or on slopes
Emergency tree removals that pose a threat to the public
Call today for a free written estimate for tree crane service.
Roslyn Low Impact Tree Removal with a Crane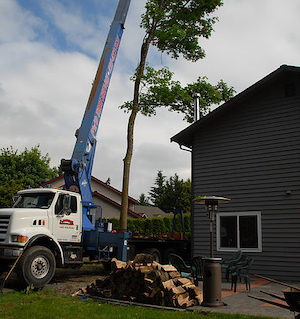 We have an expert crew and trained tree crane operators that provide low-impact tree removals with a crane.
This crew takes on any condition or difficult circumstance to safely remove diseased, dying, or decayed trees. If a tree has fallen on your roof, we can move it to a safe work zone, leaving your landscape in pristine condition.
We specialize in high-risk tree removals with a crane by vertically lifting trees or heavy tree sections to a safe location. If you need to relocate a tree with its roots intact to a new landscape location, we can do that!
These are a few reasons why Roslyn residents choose us for low impact tree removal with a crane:
Our reputation as the best in the Pacific Northwest
Licensed, bonded, and insured for customer safety
Compliance with OSHA & Industry Safety Standards
Safety is our highest priority
Lower costs than traditional tree-felling methods
Project completion in hours vs. days
Preservation of landscape
Call P and D Logging and Tree Service for tree removal with a crane when the unthinkable happens! 425-569-0900