Crane Tree Removal Services for Ronald Residents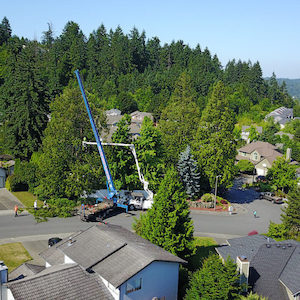 Homeowners request our crane tree removal services to prevent damage or hazardous conditions created by decayed or leaning trees near homes or trees that have become entangled in electrical cables.
If you need tree crane services to remove a diseased or decaying tree, call for our arborist to assess the overall health and integrity of the tree. It can be challenging for homeowners to discern when a tree requires removal. We support tree preservation when practical and recommend crane tree removal when circumstances warrant or the property owner specifically requests it.
We recommend crane tree removal in Ronald as the best option for:
Extraction of dead, dying, or diseased trees
Trees in tight quarters
Landscape preservation
Removal from slopes and hillsides
Tree removal with a crane is vital when trees grow too close to homes and other structures, posing a threat during strong winds, thunderstorms, and winter ice and snow accumulations.
Call today for state-of-the-art crane tree removal services that save time and energy!
A Tree Crane Can Keep Your Ronald Landscaping Unharmed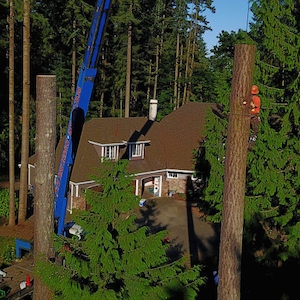 More homeowners are requesting crane tree removal in Ronald to avoid landscape damage!
Our professional tree crane operators can get the job done without damage to the landscape. They can use a tree crane to vertically lift tree sections over buildings into a safe drop zone.
If you need tree removal with a crane to mitigate the risk of structural or landscape damage, call to request a free written estimate. Our tree crane is stable and mobile with lifting booms for telescoping out and tilting in wide angles to extract trees from challenging areas, leaving no deep ruts or costly turf repair expenses.
These are reasons to use our specialized tree crane service with highly skilled crane operators:
No damage to landscaping
Completion of project in hours vs. days
Least invasive tree removal method
More cost-effective than traditional methods
All services in compliance with OSHA & industry safety standards
Call for the best in the Pacific Northwest! We always provide a free written estimate.
Ronald Low Impact Tree Removal with a Crane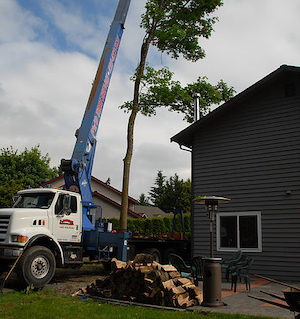 We are a family-owned and operated company serving the greater Puget Sound area since 1977 and recognized as the best in the Pacific Northwest for low-impact tree removal with a crane.
If you need tight-quarter tree removal in Ronald, call to request a free written estimate for tree removal with a crane!
Tight area tree removals can be dangerous and difficult using traditional methods without causing property damage. We meet this challenge with precision every day with zero impact tree removals with a crane.
These are a few reasons to choose us for crane tree service:
Safety is our highest priority
Licensed, bonded, and insured for your safety
Compliance with OSHA and Industry Safety Standards
We assist with insurance company claims
Lower costs than traditional methods
Call P and D Logging and Tree Service today for a free written estimate. One call does it all! 425-569-0900