Crane Tree Removal Services for Peshastin Residents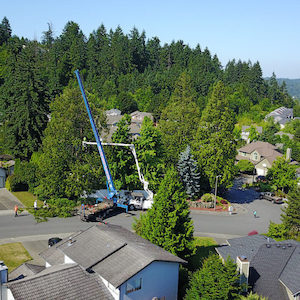 We are a leading company serving residents of the Pacific Northwest with crane tree removal services.
We provide crane tree removal services year-round, including emergency storm services and high hazard projects to restore normal conditions. Our operators can reduce the impact and preserve landscapes when working in all areas and types of conditions using a 110-ft. tree crane to vertically lift heavy tree sections into a safe work zone.
Many tree companies are unable to remove dangerous trees because of the risks involved. Our crane tree removal methods are a safe and efficient alternative.
Tree removal with a crane requires highly skilled crane operators, arborists, and tree and ground crews to avoid damage to homes and surrounding properties. Our tree crane operators are proficient, following the safest course when operating the lifting booms that telescope at great lengths and tilt at wide angles to:
Extract trees from rooftops and tight areas
Remove trees from hillsides or slopes
Lift and remove trees to a safe work zone
Preserve landscapes
Call us today for safe and efficient crane tree removal services in Peshastin at a lower cost than traditional methods!
A Tree Crane Can Keep Your Peshastin Landscaping Unharmed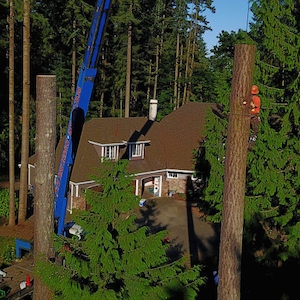 One of the advantages of using a tree crane to remove a damaged or diseased tree is leaving the landscaping unharmed!
When using a tree crane, the tree is vertically lifted piece by piece out of the area into a safe drop zone rather than falling onto the landscape. We can get the job done faster and safer with crane tree removal than using traditional methods.
Our tree crane service in Peshastin is the most effective solution for conditions such as:
A fallen tree onto a home or other large structure
Dangerously weak or leaning trees near homes
Trees too tall for felling at ground level
Severely decayed, diseased, or dead trees
Tight quarter tree removal
If you have a tree on your property that poses a risk, call us for safe tree removal with a crane!
Peshastin Low Impact Tree Removal with a Crane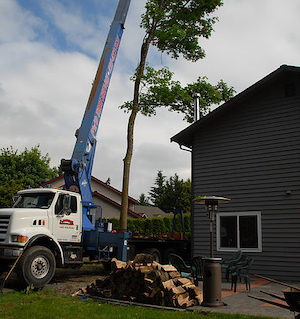 We offer low-impact tree removal with a crane that safely lifts and moves trees to a work zone.
While traditional tree removal methods can result in landscape damage, our crane tree service leaves landscaping unharmed. Tree removal with a crane is a superior option for residential and commercial properties in Peshastin.
We proudly serve your community using specialized low-impact tree removal with a crane, leaving no damage, deep ruts, or costly turf repair bills.
There are a few additional reasons to consider us for complex tree removal with a crane:
We provide assistance with insurance company claims
Licensed, bonded, and insured
Our safety-first standards
Compliance with OSHA & all Industry Safety Standards
Significant time and cost advantages
Call P and D Logging and Tree Service for a free written estimate. 425-569-0900