Crane Tree Removal Services for Milton Residents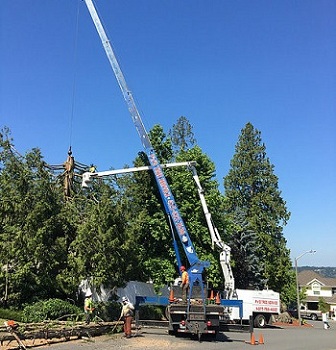 Is your tree diseased, damaged, or simply unwanted? We can help you remove it. P n D Logging and Tree Service provides the best crane tree removal experience to Milton, WA customers. No crane tree removal job is too large or too small for us. That is what makes us the go-to company for tree removal with crane in the Milton area.
We use a cutting-edge tree crane to get the job done correctly and efficiently. If you would like to find out crane tree removal costs, contact us to obtain a FREE cost estimate. Our prices are sincere and reasonable.
Our features:
Family owned and operated company
Licensed, bonded, and insured
24/7 emergency response
So, if your tree needs removal for any reason, whether pests infest it or you want to clear out the lot, we work hard to provide excellent customer service.
A Tree Crane Can Keep Your Milton Landscaping Unharmed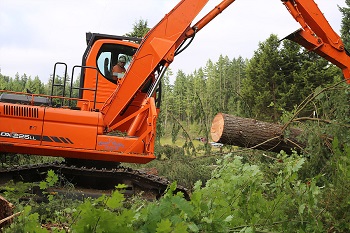 There are many advantages of using a tree crane to remove a tree. A tree crane can effectively and efficiently remove a tree with minimal impact to the surrounding area. If you are interested in low-impact tree removal with crane, contact us.
We are honest and dependable tree crane experts serving Milton. As experienced tree crane experts, we can work in almost any type of environment or condition. Whether you need crane tree removal for a residential or commercial site, we are ready to serve you. We can also perform tight quarter tree removal. We work with many different clients, including:
Homeowners
Construction companies
Local cities and municipalities
Milton Low Impact Tree Removal with a Crane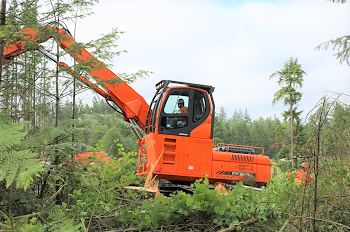 Using a tree crane for tree removal significantly reduces the time and effort involved in removing a tree. Tree removal with crane in Milton also allows our technicians to remove your tree without causing any significant disruption to the landscaping. 
We have many years of experience providing crane tree service. We have the knowledge and equipment to handle complex crane tree removal jobs. It means you can rest easy knowing that we will perform tree removal with crane with the highest professional level. Below are some of the many reasons why you should hire us for tree removal with crane:
Skilled and trained technicians
Competitive pricing
Complete customer satisfaction
Ready to get started? Call P n D Logging and Tree Service (425) 569-0900 to schedule tree removal with crane in Milton.