Crane Tree Removal Services for Goose Prairie Residents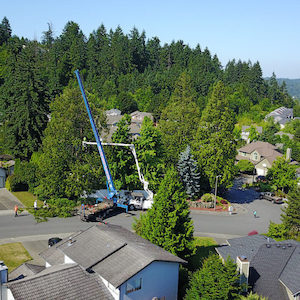 We offer crane tree removal services for Goose Prairie residents to eliminate dead, decayed, damaged, or dangerous heavy trees from their property.
We believe tree removal should leave your landscape free from damage. If you have trees that pose a threat to your home or surrounding property, call us for the best crane for tree work. Our professional crew has years of experience extracting dangerous trees using a tree crane. Using crane tree removal services, our crew can complete the task in hours vs. days.
Our crane tree removal services are also available for storm-damaged trees and 24-hour emergency services. High-risk crane tree removal is our forte!
Our professional crew includes arborists who bring years of experience, expertise, and strict adherence to industry safety standards to conduct:
Tree extractions from hard-to-reach locations
Precision tree removals located between dwellings
Removing trees from rooftops, steep hillsides, and slopes
Precise lifting and removing trees to a safe work zone
Call today for crane tree removal services from the best in the Pacific Northwest!
Tree Crane Goose Prairie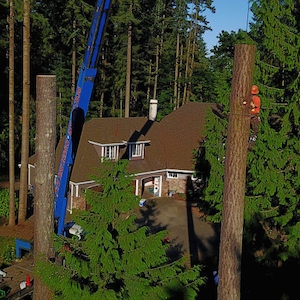 We use tree cranes mounted on large trucks vs. stationary cranes commonly used for construction purposes.
Our tree cranes provide the advantage of telescoping out at great lengths and wide angles to quickly and safely remove trees threatening property or homes. Our skilled technicians are proficient in tree removals with a crane. It is the safest course to take with heavy, stubborn trees.
Specialized tree cranes are the most cost-effective option for high-risk tree removals.
These are a few benefits of a tree crane for Goose Prairie homeowners to consider when faced with high-risk tree removal on their property:
The best option for tight quarter tree removal
Lower cost than using traditional methods
Safe tree removals from hillsides and slopes
Greater efficiency and increased safety benefits
Call us today for a free written estimate for tree removal with a crane. No project is too large for our tree crane!
Goose Prairie Low Impact Tree Removal with a Crane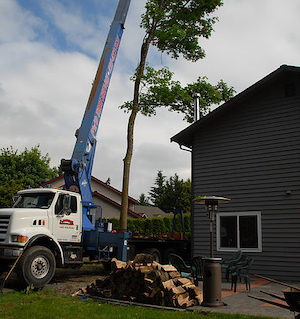 Our highly skilled operators have years of experience providing tree removal with a crane that reduces the labor time and harmful effect on surrounding property.
Our crane operator, crew, and arborist work seamlessly to vertically lift and lower heavy limbs and trees into a safe work zone for dismantling and efficient removal.
With years of experience, we have the expertise and teamwork critical to performing tree removals with a crane to avoid property damage or hazardous conditions for the crew. We have an excellent safety record.
These are a few reasons for Goose Prairie residents to choose us for low impact tree removal with a crane:
Initial careful assessment & documentation for insurance purposes
Always free written estimates
Time and cost advantages
Licensed, bonded, and insured
We assist with insurance company claims
Compliance with OSHA & all Industry Safety Standards
Call P and D Logging and Tree Service for safe and efficient crane tree service! 425-569-0900