Crane Tree Removal Services for Federal Way Residents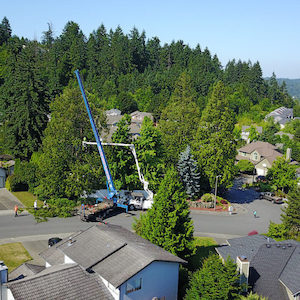 What do you do if a storm damages a few of the trees around your house? Getting them removed immediately is the ideal option. For this, you can count on our company to provide the best crane tree removal services in Federal Way, WA. Our team that deals with tree crane removal project are known to provide assistance in dire situations.
Besides, we also make sure that tree removal with crane does not cause any further impact to the surrounding area. If you are confused about when is the right time to hire our crane tree removal services in Federal Way, then check out these situations.
Removing partially uprooted trees
For heavily infected trees
To be safe from further damage
Since now you are aware of the occasions, where a tree crane removal service can come in handy, gives a call if you need assistance.
A Tree Crane Can Keep your Des Moines Landscaping Unharmed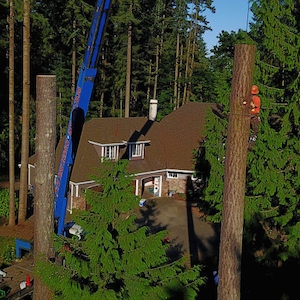 Choosing the right contractor when it comes to tree crane removal in Federal Way is essential. It is because if not done right, a crane tree removal project can cause further damage to your property. Besides, while taking on tree removal with crane jobs, it becomes all the more necessary to manage the heavy machinery carefully.
But while hiring our team of professionals for crane tree removal services, you can rest assured about not facing any of these issues. Not only is our team skilled in handling heavy machinery, but is also known to provide quick service with regards to tree crane removal.
Below are a few reasons why you should consider us as your tree removal with crane contractors.
Licensed and insured
Quality cranes and equipment
40+ years of experience
Federal Way Low Impact Tree Removal with a Crane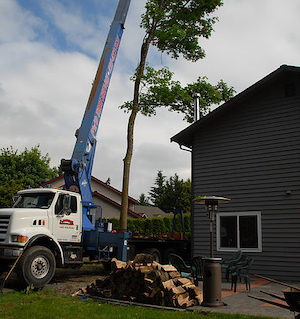 Apart from providing quality crane tree removal services, there are other benefits that we offer as well. We make sure that you get a total value for your money when you hire our tree removal with crane services in Federal Way. For this, our crane tree removal team also works hard to provide you with excellent results.
To give you a better idea of all the benefits that you can enjoy by hiring our tree removal with crane service technicians, here is a list that we have created.
Skilled crane operators
Immediate assistance
Budget-friendly service
To know more about our tree crane removal services available in Federal Way, you can get in touch with P and D Logging and Tree Service on (425) 569-0900.