Crane Tree Removal Services for Duvall Residents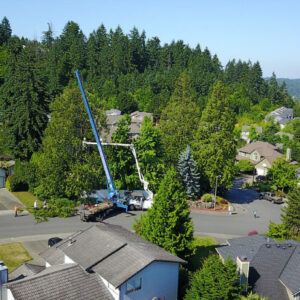 At P and D Logging and Tree Service, one of the services we provide to Duvall, WA, residents is crane tree removal. If you have a tree causing interference with building structures or electrical work on your property, crane tree removal is likely a favorable solution. The refined techniques our crane tree removal specialists use allow them to remove the tree in parts and safely relocate them to a secure work zone. 
You could require our crane tree removal services for your property if you have:
A tree at risk of falling on residential buildings
Sick or infected vegetation on your property
Roots interfering with building foundations
An unwanted tree encroaching on a retaining wall
For tree crane specialists ready to serve Duvall properties, call (425) 569-0900. If you are unsure whether crane tree removal operations are necessary for your land, one of our representatives will be happy to advise you.
A Tree Crane Can Keep Your Duvall Landscaping Unharmed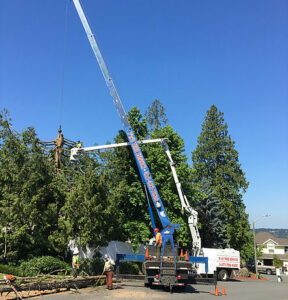 One of the initial concerns some of our clients have is that tree crane techniques will damage their surrounding landscapes. This could be the case when trying to save costs by using unlicensed workers or outdated equipment. However, at P and D Logging and Tree Service, we take all necessary precautions to ensure your property is not harmed during the crane tree service process.
These are some of the ways we ensure our crane tree services leave your property unharmed:
Only trained and practiced professionals
Attention to detail for all jobs
Utilizing advanced technology tree cranes
Adherence to all safety protocols
Please visit our website for more information about tree crane jobs and other land clearing services we provide in your area.
Duvall Low Impact Tree Removal with a Crane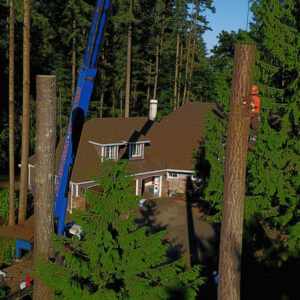 We are a reliable choice if you are looking for crane tree service specialists in your area that turn multi-day jobs into just a few hours of work. With over 40 years of experience in the industry and refined low-impact tree crane techniques, we are confident to exceed your expectations.
Here are a few reasons why residential and commercial property owners in Duvall call us for tree removal with a crane:
Responsive and friendly service
Efficient time management and job completion
Free written estimates and competitive prices
One call does it all
For low-impact tree removal with a crane and other specialized land clearing services, call us today at (425) 569-0900.