Crane Tree Removal Services for Capitol Hill Residents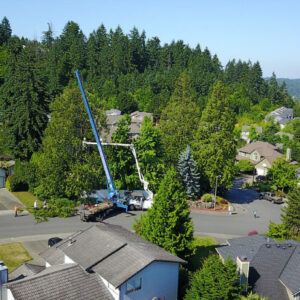 Outsourcing crane tree removal specialists might just be the solution you need to avoid unwanted trees causing further damage to your property. If you own a business or residential property in Capitol Hill, WA, needing crane tree removal services, you have come to the right place. We have a reputation for friendly and professional service and are ready to advise you on whether crane tree removal is the best solution for your property.
You could require our assistance with land clearing or crane tree services in your area if you have:
A diseased tree at risk of falling in residential areas
Vegetation encroaching on electrical work and wiring
An overgrown tree restricted by a retaining wall
For more information about what crane tree removal entails, please get in touch with us at (425) 569-0900. Our tree crane specialists will be happy to answer any questions you have about our business policies and the process itself.
A Tree Crane Can Keep Your Capitol Hill Landscaping Unharmed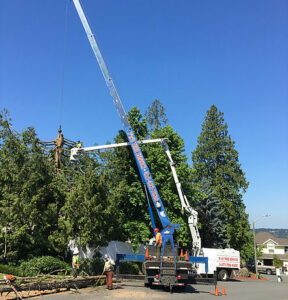 One of the reasons Capitol Hill residents look to outsource tree crane services is to avoid further damage from unwanted trees to their vegetation. We understand this concern, so we pay close attention to details that ensure your surrounding landscape remains unaffected by the tree crane removal techniques and machinery.
These are some of the features of our crane tree service that help us make sure your landscaping remains undamaged during the process:
Utilizing highly skilled and trained tree crane workers
Ongoing evaluation and maintenance of all equipment
High-end tree crane technology
Close adherence to all safety procedures
You can contact us for all you need to know about crane tree services! (425) 569-0900
Capitol Hill Low Impact Tree Removal with a Crane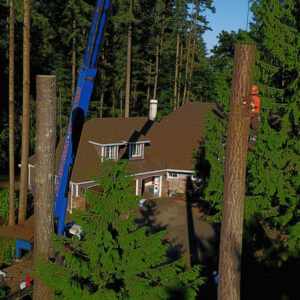 If you are unsure whether tree removal with a crane is the best course of action for your property, our team is qualified to advise you. We understand that complete tree removal should be seen as a last resort, and where possible, our knowledgeable team will be happy to advise on alternative solutions.
For low-impact tree crane services in Capitol Hill, we are a reliable choice for these reasons:
Responsive and friendly service
Free written estimates
Timely completion of jobs
Attention to detail
Valued customer satisfaction
At P n D Logging and Tree Service, we are a 'one call does it all' service provider. For information about other services we offer in addition to crane tree removal, give us a call! (425) 569-0900.