Crane Tree Removal Services for Burien Residents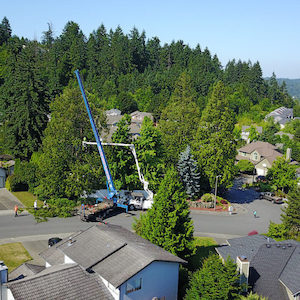 Need to get one or more trees removed from your property? Call P'n'D Logging and Tree Service for low-impact tree crane service. Tree removal with crane is, without a doubt, a great deal better than the traditional methods of taking out trees.
Compared to the conventional techniques, crane tree removal from your Burien, WA property:
Requires much less labor
Gets done faster
Does not need complex rigging
Is non-destructive and a lot safer
Hire us for crane tree removal if you want to get rid of undesirable trees from your yard in the most professional way. We have been providing tree crane services in Burien since 1977. Dedicated and diligent approach to work has made us one of the most trusted experts for crane tree removal in this area.
A Tree Crane Can Keep your Burien Landscaping Unharmed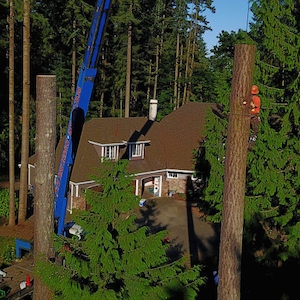 Seamless tree crane work ensures tree removal without harming the surrounding landscape. Such jobs result from the combination of:
Top-notch equipment
Skilled technicians
Attention to details
We appreciate this and have invested in the best crane for tree work. Our carefully hand-picked employees are rigorously trained in working with the state-of-the-art machine and are known to deliver smooth, incident-free tree crane service by Burien residents. They perform even tight quarter tree removal with crane safely.
So, hire none but us for tree removal with crane from your property. Affordable crane tree removal cost is an added advantage of choosing us.
Burien Low Impact Tree Removal with a Crane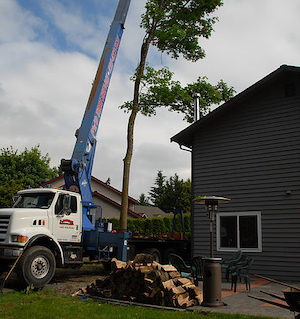 We can be called in for tree removal with crane from all types of properties.
Residential
Commercial
Public/Municipal
We believe that every property owner has a right to high-quality tree crane service that gets hazardous or otherwise unwanted trees in his/her yard removed with minimal adverse impact on the landscape or the environment. Through tree removal with crane from Burien properties, we make sure that taking down of the tree does not result in soil disturbance or destruction of the foliage nearby.
Do not fret if have a storm-damaged, severely diseased, precariously growing or inconveniently located tree on your property. All you need to do is to place a call to our crane tree removal experts.
We offer 24/7 emergency response to calls for tree removal with crane. Our technicians come to your assistance ASAP and restore your peace of mind with careful and safe tree removal with crane.
Call P'n'D Logging and Tree Service at (425) 569-0900 for crane tree removal from your Burien property.