Crane Tree Removal Services for Bothell Residents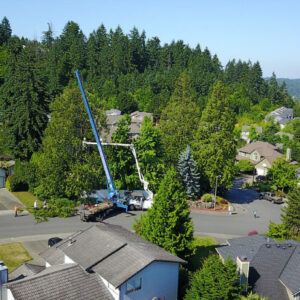 If you have a tree on your property restricted by retaining walls, causing interference with infrastructure, or at risk of falling, you have come to the right place. In these scenarios, crane tree removal is often the most effective solution.
At P and D Logging and Tree Service, we have the customers and their properties at the forefront of our business mission. If you have an unwanted tree on your property and are unsure whether crane tree removal is necessary, we are happy to advise on the best solution.
Crane tree removal for Bothell, WA, properties is the best solution for:
Minimizing damage to the surrounding landscape
Efficient extraction of unwanted trees
Time and cost-efficiency
A hassle-free and safe solution
Our priority is the health and safety of your property and that of residing individuals. Call us at (425) 569-0900 for safe and efficient crane tree removal for your property.
A Tree Crane Can Keep Your Bothell Landscaping Unharmed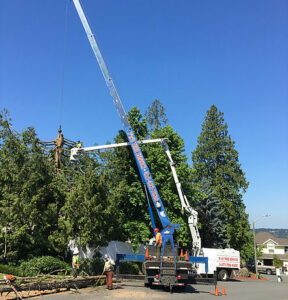 We understand that tree removal can be stressful, and many property owners outsource tree crane removal services to avoid the damage caused by a downed tree. We assure all property owners in Bothell that we use the best cranes for tree work to ensure your landscaping is unharmed in the process. Our tree crane workers are also highly trained in safety precautions and specialized extraction techniques.
Some of the precautions we adhere to for tree crane removal include:
Highly skilled workers
Advanced removal techniques
Ongoing tree crane maintenance checks
Tree removal in pieces
Safe relocation to secure work zone
Please contact us for more information about tree removal with a crane that leaves your landscaping unharmed. (425) 569-0900
Bothell Low Impact Tree Removal with a Crane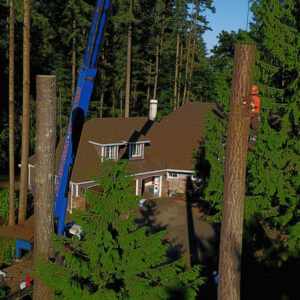 Save yourself the time, stress, and cost of working with an unlicensed crane tree service provider in Bothell. Why not call us for a highly skilled and licensed team that will get the job done right the first time? We are a reliable choice for professional crane tree services.
We are trained in offering low-impact crane tree services for tight quarter removal, storm-damaged tree removal, as well as complete extraction from challenging terrains and weather conditions. These are a few aspects of our land clearing and crane tree services that lead Bothell residents to call us:
Licensed, bonded, and insured for your protection
Over 40 years of industry experience
Recognized professional service
Customer-centric operations
For low-impact crane tree removal at competitive prices, call (425) 569-0900.